The Story Behind Our 40-Song SAGE FRANCIS Birthday Playlist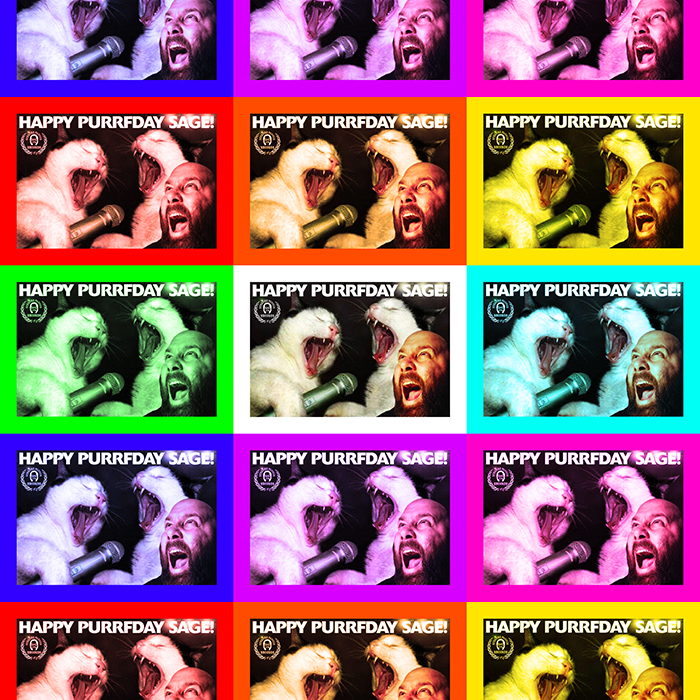 November 18, 2016 marks 40 years 'round the globe for SFR emperor Sage Francis!
He's not as thrilled to celebrate the milestone as the rest of us are to celebrate him for it, but that's just the nature of entering your 40s for most of the humans of earth.
The rest of us are #blessed to def that we've gotten to experience decades worth of incredible artistic achievement from the man (and he's not such a bad guy to have as a label-owner, either).
To mark the occasion, we've created a 40-for-40th Sage Birthday YouTube Playlist – 40 tracks long & pulled from across his career.
Click 'play' on the video below and celebrate with a song for every year he's been with us!
HUGE HAPPY BIRFDAY LOVE TO UNCLE SAGE!
Here are the 40 songs included in the playlist, in no particular order:
01 Mullet
02 Conspiracy To Riot
03 Slow Down Gandhi
04 Crack Pipes
05 Vonnegut Busy
06 Best of Times
07 Damage
08 Lie Detector Test
09 Andy Kaufman
10 Inherited Scars
11 The Cure
12 Make Em Purr
13 Emperor's New Clothing
14 The Rewrite
15 Bridle
16 Embarrassed
17 Let 'Em Come
18 Climb Trees
19 Whore Monger
20 Makeshift Patriot
21 Mutiny
22 London Bridge
23 Any Port
24 Testimony
25 Clickety Clack
26 I Keep Calling
27 Dead Man's Float
28 Life Is What Distracts You From Death
29 Disasters
30 Mermaids Are Seasluts
31 Runaways
32 Eye of the Tiger
33 Cafe Girl
34 Blue
35 Gimme Dat
36 Sea Lion
37 Crumble
38 Love The Lie
39 Underground For Dummies
40 Waterline
How did we come up with the playlist?
A panel of Strange Famous artists, employees, friends & family were polled and asked to give their Top 5 Favorite Sage Francis songs.
Here are some words from SFR label manager Storm Davis about the process, taken from a secret email exchange between SD & Sage:
"Prior to your expressing a desire for a minimum of bday fanfare, in my plans for maximum bday fanfare, I had reached out to a number of SFR crew and asked them for their Top 5 all-time Sage songs, with optional write-ups, with the intent of putting together a 40-song YouTube playlist.

So, instead of blasting everything out to the universe over the course of the day, I'll just send the info to you, because what everyone wants for their birthday is a mountain of data to sift through. HAPPY BIRTHDAY NERD
Also, I send it to remind you that not only does everyone care greatly for you, but you are such a [compliment/adjective that applies] artist that there were an astoundingly small number of crossovers between the lists. I expected "SEA LION BEST OF TIMES MAKESHIFT PATRIOT MAKE EM PURR SLOW DOWN GANDHI" to keep being submitted & I'd have to pick 35 songs myself. But other than learning that "Crack Pipes" is your most popular tune amongst the inner circle, there was so much diversity that it got to 40+ tracks very quickly.

Unedited breakdowns & commentary from those who responded can be found below, again, in no particular order.
I emailed others, but I assume they didn't respond because they were out shopping for your birthday gift."
1. Best of Times – I think it's one of the top five songs to come out of the underground movement, period. Nothing out there that sounds anything like it.
2. Crack Pipes – first time I met Sage in person I DJ'd for him at the Knitting Factory in Tribeca. Personal Journals had just come out. I pressed play on the first record of the set, and Crack Pipes started. I hadnt heard it yet. One of my favorite life memories.
3. Damage – Getting the chance to be on stage for this song and be a part of it in any sense has been fucking unreal. Basically every line is a quotable and it's one of the all-time great hooks.
4. Vonnegut Busy – Beat from Prolyphic is insane, and Sage wrote the shit out of this. During the most difficult year of my life I've regularly been rapping different sections of this song to myself without even knowing it.
5. Lie Detector Test – Somehow this has always been the most personal Sage song to me. In the sense that it's so casual and unguarded? Not sure if I'm wording that right. I dunno. I've always loved it.
1.Andy Kaufman- probably an unconventional favorite sage song but this was the one that really got me into him. Both sage and Andy Kaufman. This song made me look up who Andy Kaufman was so that I understood the reference of the song and I fell in love with the character of Andy as a product of that.
2. Inherited scars- this is the first rap song I heard where I thought….RAP CAN TALK ABOUT THIS!?
3. The cure- you know what I think the stand out lines are in this song?when a boy writes off the world it's done in sloppy misspelled words when a girl writes off the world it's done in cursive. sometimes things that are true as still are still brilliant in their observation.
4.make em purr- sage made the indie world care about his fucking cat.
5.the emperors new clothing- this song reminds me of the early 2000's because I had it on constant repeat and it makes me feel so nostalgic.

1. Rewrite – this was on the first Sage album I owned and I learnt every god damn word. One of my all time favourite songs by anyone ever
2. Bridal – this track made me want to do a whole album of one verse songs. It's fucking perfect man. No filler. It slowly builds, breaks out and then it's gone.
3. Make em Purr – I was lucky enough to hear this super early and it made me so damn proud and excited to be putting out Copper Gone
4. Embarrassed – this was the first time I heard Eyedea. I was already a Sage fan and already a Slug fan so THEY were the appeal here…the Eyedea popped up and blew my mind with his while "…conscience consciously edited…" long tongue twister line.
5. Let me Come – BECAUSE ITS MY SONG ON MY ALBUM AND ITS AWESOME AHAHAHAHAHAHAHAHA I WIN.
DOPE KNIFE
Climb trees,  whoremonger, makeshift patriot, mutiny, and….  I gotta say London bridge


DUNCAN JEWETT
Non-Prophets – Any Port into Damage – I was never big on "traditional" rap when I was growing up- braggadocio or even clever pun stuff. The entire 'Hope' record had such a fun and yet dope/braggy/smart-as-fuck vibe to it that I never liked before then and still don't like much of and the wit woven throughout the record went super hard for nerdy 15/16yrold me especially considering I was obsessed with Personal Journals as like a 14yrold, before this came out. Not to mention some of the truly most classic production like EVER- fucking 'Fresh'?!
Bridle – Loved the sing-sing cadence of this track from the moment I heard it, struck me long before the lyrics did.
Testimony – HO SHIT honestly this beat gives me goosebumps every single time. Sage starts this track with the best verse I've heard on a "posse" style cut with a few exceptions, and I'm not sure I even understand the verse! Intro/Outro hook so goddamn catchy.
Clickety Clack – This is sort of a quintessential Sage Francis sound for me personally, I remember the first listen through this record when this track hit I knew I probably couldn't like another song on this record more than Clickety Clack. Amazing dark/brooding beat and the rhyme scheme throughout is great with such dope lyrics accompanying and keeping up the scheme from beginning to end I always struck me.
Personal Journals? I know this doesn't help for this 40 track playlist but Personal Journals was simply groundbreaking for me from beginning to end as a young teenager. I'm extraordinarily picky about what I like in music, if I didn't like songs I would skip them every time or just delete them from the playlist and I think Personal Journals was one of those records had such truly eye-opening songs that I would go back to those sort of tracks that were initially abrasive or "boring" to me at first, so I could make sure not to miss anything. The production can't be touched.
I Keep Calling – This song is a personal favorite of mine.
Crack Pipes – First rap song that ever made me cry. This song is so intense. First time I saw him perform it live in RI the shit floored me.
Dead Mans Float – This song is so well written. Sage is one of my favorite emcees of all time. Fuck all y'all.
Life Is What Distracts You from Death – Love this fucking verse, but hate the fucking Patriots.
Disasters – Sage kills this. It's funny, it's got character. "I'm sitting on top of a Barbarian chair with Rastafarian hair"
Clokworx – Mental Flux – Respect the Sage beat making skills!
The song where he fakes his own death to see who comes to his funeral, Mermaids Are Sea Sluts, and Different.
01 Crumble
02 Underground For Dummies
03 Love The Lie
04 Blue
05 Waterline
Also you have other good songs. But nobody else voted for these.
JIVIN' SCIENTISTS
Damn!!! 5 songs is tuff to pick. Had to give it up to the classics! Here's what we got for ya!
here are my top five, maybe with words but they're just for reference, not with the vision of being included anywhere! I feel like I've gone old time Sage on this selection but I feel like these cemented my relationship somewhat…
1. 'Eye Of The Tiger' (Still Sick… Urine Trouble)
I used to rock this a lot on the heavy regular. I loved the bouncy production and it just scratched an itch in me for early 90's kind of stuff – and it was mad entertaining in the bargain.
2. 'Cafe Girl' (verse on Sixtoo's 'Canada Project')
This was one of my early Sage run-ins. The beat was luscious and the casual but perfect delivery from him was like a slathering of soft butter on a hot piece of toast. Gorgeous.
3. 'All Word No Play' (from the Non Prophets 12″)
The first ever experience I had with a Sage track, bought on spec from the artwork and the liner notes. A proper nice skills show-off and just brilliant throughout.
4. 'Inherited Scars' (Personal Journals)
I'm sure this will be picked by a lot of folks but this one hit me hard back in 2001 and the tightly wound lyrics and production combination was too perfect. I'd always use this to show Sage to people. And 'Makeshift Patriot' but I'll leave that off cos it's a given really that that's a favourite!
5. 'Gimme That' (Sick To D(eat)h)
I always have this ready if I'm in a DJing situation – such a banger. Relentless and so heavy. Picking five favourites was almost impossible but I just went with what makes my head nod and tick at the same time – this does that.
HUGO LOPEZ (SFR Staff)
Dead Man's Float
Runaways
Little Houdini
Conspiracy to Riot
Sea Lion
DANNY BROWN (SFR Webmaster & IT Genius)
Mullet
Conspiracy To Riot
Slow Down Gandhi
Crack Pipes
Vonnegut Busy
I have only one entry.
Sage Francis is undoubtedly one of the illest lyricsts and emcees of our time.  He's been decorated with Literature Awards, Battle Rap Trophies, record deals & album sales for longer than
some of these New Jacks have been alive.  His catalogue speaks for itself and I'm sure a lot of people will pull out a lot of worthy songs to celebrate.
However when I thought about this, I could only think of "Who Farted?"
A song I lobbied strongly against the creation of.  A song I laughed at, then shook my head in disbelief over, many times through the years.  A song I cannot get past.
I present to the listener "Who Farted?" as evidence of the supreme idiocy of my best friend Frank.  Who invented this game of rhyming "Who Farted?" couplets on long tour rides before I even set
foot on the road.  Who spent hours editing that beat together.  Who literally shat all over a beautiful The Knife song.  Who did vocal take after vocal take, Getting It Right.
He still inspires me and fills me with wonder, this guy.
He continues to give us all of his dumb amazing self.
Who farted?  It was Sage Francis.  Shit only gets stranger as his age advances.
Luh ya bwah.