Evel Knievel Defeats Nihilism in Seattle
Yes sir.  It's heckler jumping time again.
And, oddly enough, we once again found ourselves in Seattle doing it.
This review comes to us courtesy of 'Desert Penguin' from the Strange Famous Forum.
Only 2 dates left on the 'Orchestra of Strange Tour'!  Sleep, B.Dolan and Cecil Otter in Boise, ID tomorrow and Reno, NV on Sunday!
REVIEW:
Nectar Lounge, Seattle, 1/06/10
It was your typical Seattle crowd. Laid-back if not standoffish, conceited if not narcissistic. But that did not matter. This was the northwest, after all, and here amongst all the trees grows an abundance of eccentrics. Potential game-changers. There's one at every show and you just can't predict how they will affect the experience. Ladies and gentlemen of the Strange Famous Forum, I present to you The Nihilist.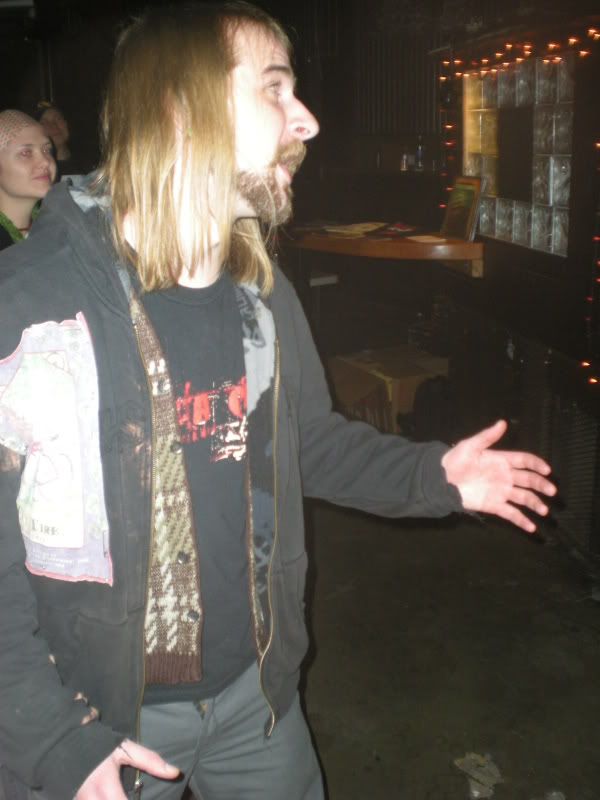 This little lightning rod of a man was our x-factor. Now, I'm not saying the show would have been lost without him, but he certainly changed the entire atmosphere of the club. The first three sets of the night were performed in front of a late-arriving, slightly disinterested crowd. This, however, was not a reflection on the performances of the artists. Dark Time Sunshine, Cecil Otter, and JFK were all equally impressive in their presentations of hip hop, yet ultimately unsuccessful in getting the crowd involved.
I knew there was the potential for this to change during B. Dolan's set with his penchant for pageantry. However, even after opening his set with a self-described "mindfuck," and proceeding to make it rain in receipts after a spot on Andrew Dice Clay impression, all while mowing through bangers new and old, the crowd was still just…well…Seattle. About halfway through his 50 minute set, Mr. Dolan commented on his perceived lack of crowd support which was quickly met with "It doesn't matter," from one of the more lively crowd members. B. followed with another comment that again was responded to with an "It doesn't matter," from the same guy. B. attempted to speak one more time and was cutoff before he could even finish with another "It doesn't matter." And thus, The Nihilist was born.
We didn't realize it at the time, but the trajectory of the entire show was forever altered in that instant. What seemed like harmless banter between emcee and audience would lead into a much bigger, more monumental moment. B. went on to continue his set with his newfound perspective, angling through another song or two before breaking out a staggering spoken word rendition of "Still Electric" that was met with mostly too loud conversations about the latest episode of Jersey Shore and how Facebook still doesn't have a "Don't Like" button resonating from the bar. It was at this point that I officially became embarrassed to be a part of this crowd.
Sometimes you gotta get knocked down before you get back up. This is where a less savvy performer will usually give up and mail it in, but it's also where a virtuoso can really make something happen. Here is when the years of watching a crowd control master work his magic pays off. Bernard decided to nix the next song and go directly into his Evel Knievel act. He ripped off his clothes in fury, revealing his stunningly patriotic jumpsuit, complete with a shimmering red cape. He gave a rousing speech, dedicating his stunt to the unfortunate crippled boy suffering from cancer of the AIDS he met at Seattle Children's Hospital earlier that day.
As I understand it, this is typically where B. makes a death-defying leap over a monitor, but he knew this moment needed to be better than that. It was going to take something breathtaking to captivate this crowd, and B. knew just what he had to do. He had to jump The Nihilist. The crowd went crazy as the young nonconformist climbed on the stage to risk his life for the sake of entertainment. Surely, any slight miscalculation in Bernard's approach could seriously injure the entertainer, and potentially kill our new favorite bearded freethinker. It was an amazing act of bravery by the slender skeptic, but after all, what did he have to live for? The tension built, the crowd chanted. There was no turning back now. You could see a slight bit of reluctance growing in Bernard's eyes as a bead of sweat rolled down his temple. He knew what he had to do if Sleep was going to enjoy the raucous crowd he deserved. B. reared back, took three steps and lunged forward. And just like that the moment was over. The crowd was electrified. "The Final Countdown" blared through DJ Zone's turntables, and everyone present knew that something great had just gone down. Something we would go home and tell our Moms about after the show. A story we will be telling our little sister's friends for years to come. We were there when B. Dolan jumped The Nihilist.
After bringing the house down with his mind-blowing feat of acrobatics, B. proceeded to rip through two more songs before handing the well-prepped crowd over to Sleep. The audience would stay in tune for the entirety of Sleep's set as he properly rocked their balls off, but I wonder just how it all would have went down if our scraggly-haired friend had never made his philosophical beliefs known in the middle of B.'s set. I guess we'll never find out, but y'know what? It doesn't matter.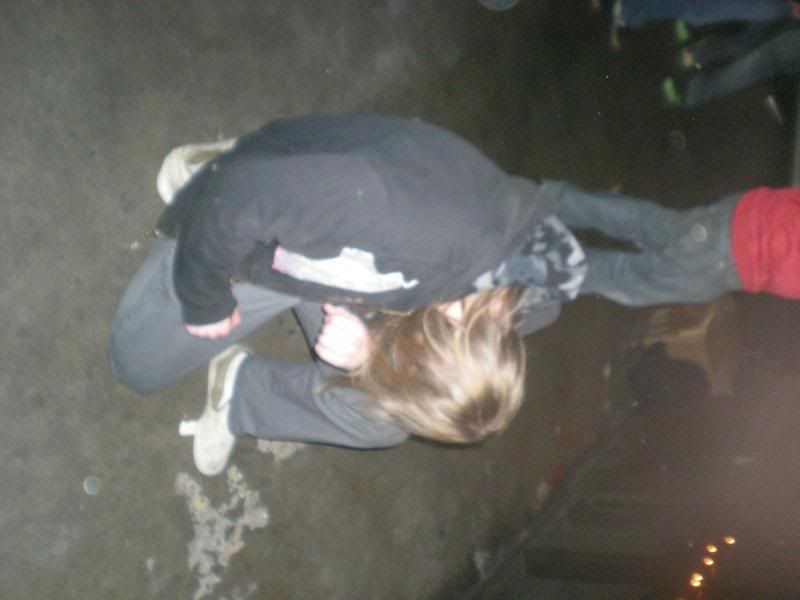 The Nihilist praying to nothing before giving up his body to B.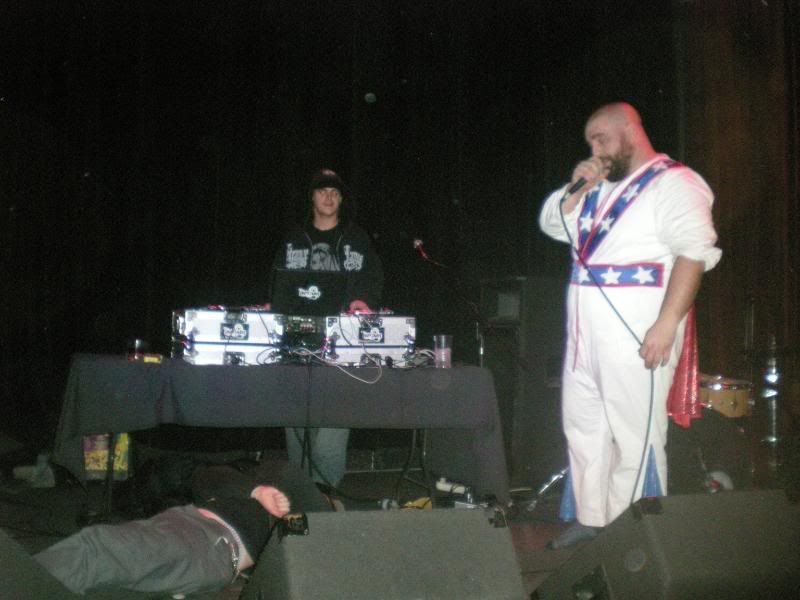 B. informing The Nihilist that he can't sue if something goes wrong.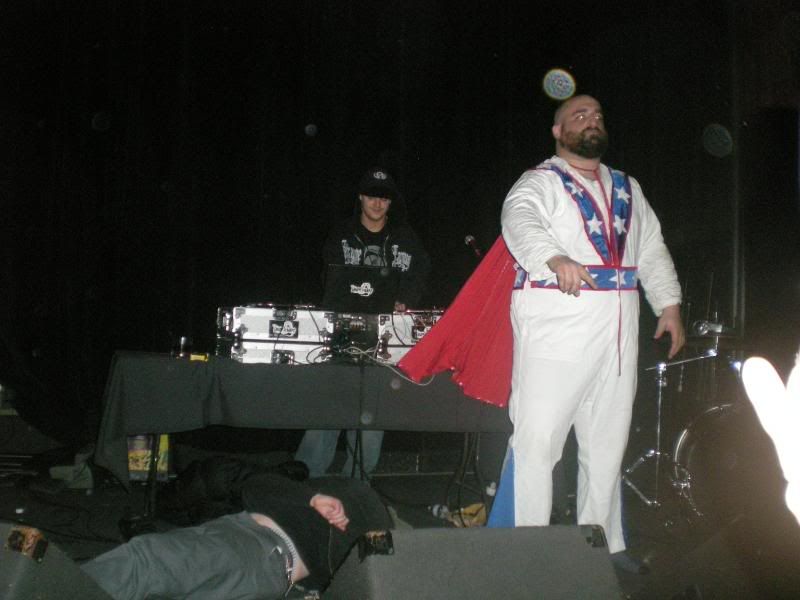 Look at that fucking ghost orb/halo over B.'s head. That's all you need to know about this moment.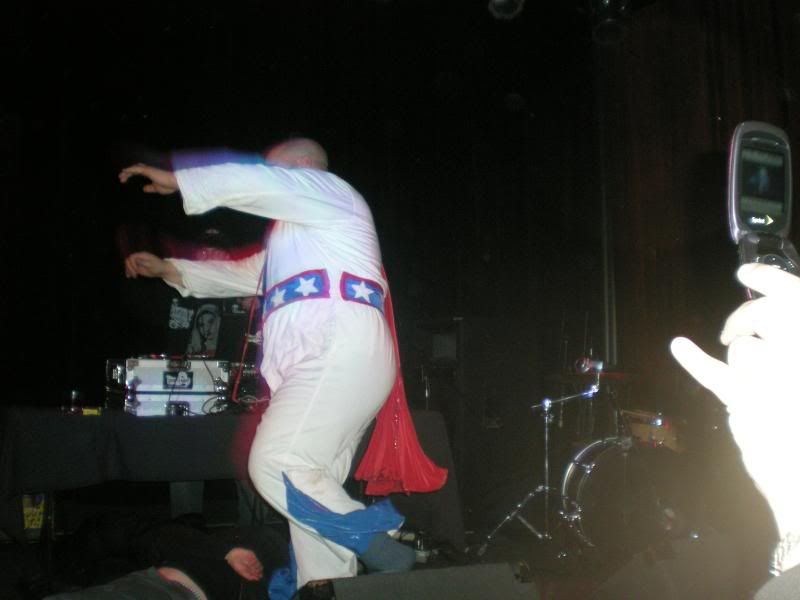 Will he make it?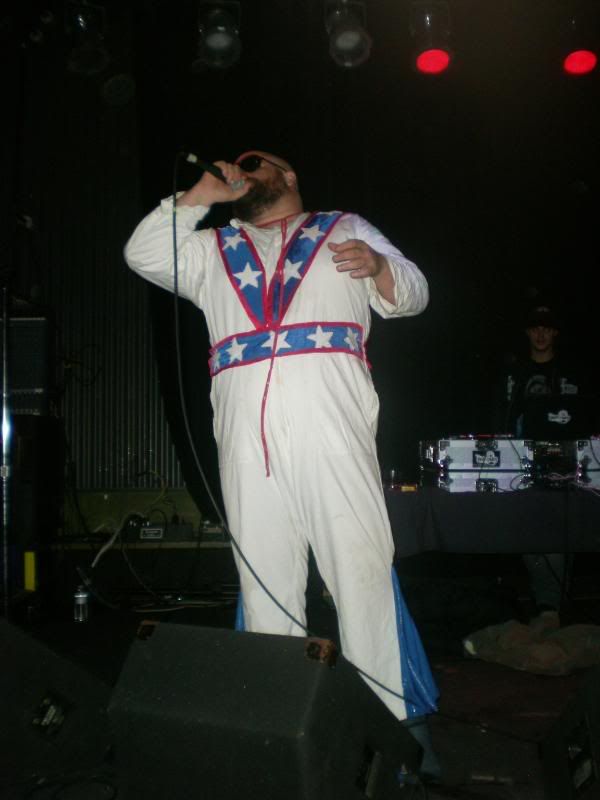 A newfound swagger.
Comments
Brett says
Vicky says
Ray says
@TheBrettWalker says
albinored says
Jared Paul says