Strange Featured Video
"Copper Gone" album info can be found here
"MAKE 'EM PURR" is the second video from Sage Francis' new COPPER GONE LP! Video Director: Wasaru. Art Director: Jebedaï Couture. Beat by Buck 65.
All tour info (Euro/UK Oct-Nov) is available here
Read "Make Em Purr" LYRICS and backstory here
"Make 'Em Purr" T-SHIRTS in Men's & Women's sizes are available at SFRstore here
Benjamin's Deep Thoughts
Strange Featured Release
DAN LE SAC VS SCROOBIUS PIP - Repent Replenish Repeat
Farewell dan le sac Vs Scroobius Pip! After 3 successful group efforts, "Repent Replenish Repeat" is their swan song as a duo!
The Strange Famous Records release of the album features an EXCLUSIVE bonus track, available only on CD & Digital versions in North America! Click here for CD & MP3 versions of the album.
Clip of the Week
B. DOLAN – "Natural Born Trouble" – Produced by BUDDY PEACE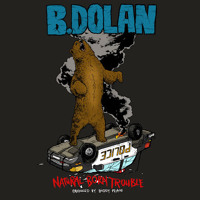 CLICK THE ARROW IN THE PLAYER ABOVE FOR YOUR FREE DOWNLOAD!
B. Dolan & producer Buddy Peace have just unveiled the first leak from the highly anticipated HOUSE OF BEES VOL. 3 mixtape, ahead of this November's tour through the UK + Ireland.
"NATURAL BORN TROUBLE" enlists the help of none other than the confrontational comedian NEIL HAMBURGER for the drop, and features a snarling B. Dolan reminiscing on a lifetime of truancy.
Some people go looking for trouble, and some never have to. In "NATURAL BORN TROUBLE," Dolan let's us know the latter hasn't worked out all that bad for him.
"Behavior is modified, commodified and stopped
Everyone's an authority, amateur league cops
Informing on one another, instructed to keep watch
Deviate from the norm and walk around feeling marked,
then realize there's a freedom in being a man apart;
They can't take nothing from you when trouble is all you got."
HOUSE OF BEES VOL. 3 will release this winter ahead of B. Dolan's official LP, due in the first half of 2015.
Fans in England, Ireland and Scotland can get a first look at 2 years worth of new material this November, when Dolan will headline and be joined by a live band featuring BUDDY PEACE each night.
SCROOBIUS PIP and WARRENPEACE will also be along for that tour, for which tickets are selling rapidly.
Here are the full dates:
Nov 3rd – Bristol – Thekla
Nov 4th – Birmingham – Hare & Hounds
Nov 6th – Reading – The Bowery
Nov 9th – Brighton – The Haunt
Nov 10th – London – The Nest
Nov 12th – Liverpool – Kazimier
Nov 13th – Leeds – Wardrobe
Nov 14th – Glasgow – Nice n Sleazy
Nov 15th – Edinburgh – Sneaky Pete's
Nov 19th – Cork – Cypress Ave
Nov 20th – Dublin – Workman's Club
Nov 21st – Sligo – Fifth on Teeling
Nov 22nd – Galway – Roisin Dubh
Ticket links and full details are available here.
"Natural Born Trouble" illustration by Matt Guack.