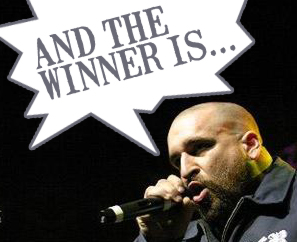 B. Dolan announces the winners to the "One Breath Left" remix contest!
Ayyye!
Incredible work from all of these finalists!
The results are in… and we've decided to announce two "winner" categories.  Winner by internet poll and Winner by the judges (Alias, B. Dolan, and Sage Francis).
and the winner by internet polling is…
FAITH HEALERZ!
And the winner by the judges is…
a tie!
Between…
JACKSON of GRAND BUFFET!
and
THEORY 77!
To download the FAITH HEALERZ remix, click here.
To download the THEORY 77 remix, click here.
The JACKSON of GRAND BUFFET remix will be available from SFR at a later date. Stay tuned!
Below is my feedback (and some requests) for each of the finalist producers.  Thanks again to everyone who took part in this contest and to the SFR staff for putting in the man hours and internet mastery to host it.
For those of you who I asked to send your beats, you can send em (if you're so inclined) to beedolan@gmail.com.
Aharon Hebert – beautiful beat man.  that repeating synth tone works in a really great way on my brain.  this is definitely my shit aesthetically.  fucked up, broken and hypnotic.  please send this beat my way if you get a chance.  i could definitely see doing something new with this.
Chester's Kitchen – I'm on the porch with lemonade in this one.  And it somehow works really well.  this is good summertime shit.  Please send me this instrumental as well.  I'm having dreams of performing live to this one, or at least getting my alarm clock to play it every morning.  Your instrumentation matched the tone of my voice perfectly, and gave the song a non-cliche buoyancy that is hard to create.  Great fuckin work.
Doctor Adam – Took unfair advantage of the fact that the song was recorded at his house 😉 I love being pitch shifted up like this, because it makes me sound 5 years younger and 40 pounds lighter.  The beat knocks… the synths create a minimal, expansive vibe that I dig.  Doc. Adam DJ's a big big hip-hop night in Portland, Oregon, and I believe this remix was created with that in mind, for the purpose of knocking in the club, and I bet it does that.  Dope remix, and a fun afternoon of recording that produced this acapella.  Big up to Doc Adam indeed.
Edison's Iron Lung Remix – You had me at "Iron Lung."  Shit man.  This hard as fuck, intricately layered, hypnotic and perfectly matched to my tone…. The chorus.  Shiit.  I've asked Edison for this instrumental too.  Unites the bloodclot proletariat by the time it's done.  Nuff said.
Faith Healerz – That bass made me make a mean face when I heard it.  Snarling at my computer and shit.  You nasty motherfucker.  How dare you play a tone that filthy.  That's the sound Martin Sheen makes when he rises out of the tar swamp to go kill Colonel Kurtz in Apocalypse Now.  Slowing my voice down like that somehow turned me into fucking 2mex, which was very unexpected. Horror-core FTW.
Forest Travesty Remix – This is one that I'd like to hear without the acapella over it, because I think it's a cool piece of music that could easily, and maybe should be standing on it's own… Reminded me of Philip Glass in the way that a repetitive loop slowly picked up steam.  Good stuff.  But criticize Alias again and I will cut you deep. jus kiddin.
High P – The strummy guitar on the first 4 bars is what did it for me.  Felt like I was broke down in a ghosttown.  Had to give this one props if only for nailing that opening scene.
James Thomson – Another beautiful beat.  I've hit you up asking for this instrumental and gotten no response.  Why are you ignoring me.  Your cellos have spoken to my heart.  You can't walk out on me now James.  Send me this goddamn beat!  I got plans for this one!  Something scandalous is happening in the castle during this one… Love the mood created and the percussion is the kinda shit I  wait to hear but seldom do.
magOwl – Some great drum programming and moody synth bidness.  Impressive manipulation of the acapella and vocal effecting too.  I wish I knew how to do a few of them things.  The production on the start of the second verse is is huge. I'm also a sucker for classic breaks manipulated in new and interesting ways.
kHill – Another one rises out of the swamp with a knife in it's mouth.  Beat is driving, matched well to my tone, and on some bassy, country ugliness.  That twanging tone gives the whole thing a real cool character.
Rhythmatik – Charlton Heston walks into a rave?  Why am I bobbing my head like this? Great breakdown in the second verse.  This beat has travelled a thousand miles by the time its over, which is what the song is about.  Something about the quality of the main drums was just aiight for me dog… but maybe thats because I only want to hear the amen break and grinding bass from the drum & bass genre…  Hail up all nomadic massive.
Sick Transit – This was one of my top 3 from the first wave.  Some of what I look for in these contests is a beat that does something new to my tone in the way that this one does. The way the chords change during the verses, makes it impossible not to nod your head to this.  I'm also a sucker for organs (pro homo.)
Theory 77 – Quite possibly my winner.  Immediately upon receiving this remix, I burned it to a cd and drove around listening to it in the car and smoking. Hard. As. Fuck.  Incredible turntable work throughout.  Highlights all my favorite parts of the writing, even.  I can't ask for much more than this out of a remix.  You murderrrred this man.  Jesus Christ.
Mancabbage – Sneak attack from a SFR forum O.G.  This shit is marching band big.  Who the hell knew mancabbage had it in him?  Not me. This beat yells as loud as me for sure.  I'm leading a parade down wall street in this one.  The parade-goers are all carrying torches and pitchforks.
Underground Catalyst – You made me sound like the reptiles in "V"!  The manipulation of vocals combined with the music creates a cool staggering feeling throughout the song.  The drums left a little to be desired… they had a kind of canned fruity loops feel, as did some of the tones of the synth instruments… But I see your vision, mannn.
Mr. Area – Impeach the president, eh?  Ballsy.  Ballsy choice Mr. Area.  But I was with it by the end.  Some of the vocal manipulation is really cool on this one, especially on the chorus.
Eaters – Something about those guitars is reminding me of Alice in Chains.  Is that a weird comparison?  Broke down in a ghost town again.  Kickin the tires.  Then a black hole opens up and starts swallowing tumbleweed and cactii during the chorus.  I'm with that. haha.
Osinaka – All right now.  Is that… a sample???  A prominent, discernable, sample??? But how will we license this to a  video game with that sample in there??? We won't, that's how.  We'll give it away so they can't sue us for sample clearance, and make some shit that sounds like hip hop is supposed to.  Pete Rock high fives you from rap heaven, then starts talking about how CL smooth was the least important part of T.R.O.Y.  You get disgusted and walk away.
Leif Kolt – This song was written and delivered over big mean synths, so the acapella sounds at home here.  Interesting manipulation of the chorus, turned it into a different kind of chorus.  Someone yells WHEW in the second verse.  Haha.  Energetic shit man.  Grand Buffet-esque maybe?
theLin – Some really dope music here.  The only thing I'm not totally into is the drums … which seem, in places, to be too generic for the rest of what's going on. I'd be interested to hear this instrumental, and also to hear it with no drums.  If you have separated tracks for this, and would consider sending that to me, I'd love to hear it.  Either way though, I'm excited about this one.
Polyphonic The Verbose – Great filtering and interesting programming of the drums.  I also am jealous of anyone that can make an arpeggiator do what they want it to do.  Something about this didn't match the tone of the acapella for me though.  I think this is another one that might need to do stand on its own, or with a different kind of song over it.
Vividend – Woh.  Now I know why a lot of people have been talking about this one.  This is some more beautiful instrumentation.  My first impression was "Sage would rip this."  This one is a contedah for sure.  Top 5.
WIK – Spooky stuff. Great mood and interplay of sounds.  I assume the keys were played live through a synth?  I'd say the sounds themselves might need some shaping to sound a little less canned, but you clearly have some dope ability and vision.
Emancipator – Speaking of ability and vision. Another banger from emancipator.  I'm truly impressed by your composition and arrangement skills mang.  I don't know why the fuck I don't own your instrumental album.  Big up yahself.
annnnnddd…
Jackson of Grand Buffet – arrives a day before the deadline.  sounds like Rocky Balboa snorting coke off a leprechaun's ass.  Transforms the acapella into a genuinely new song that's fresh and mean enough to stand next to the original.  Which is what a great remix should do, I imagine… This is the one I'm riding with.  Bump this in the whip this summer.  phil collins industrial thrash muppet van halen.  Jackson is a fuckin genius, I'm kinda honored he'd fuck with a song of mine, also.  Blue ribbon boyeee.
-B. Dolan