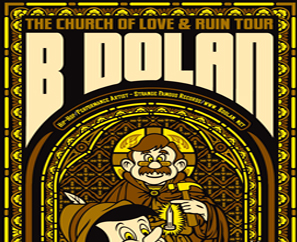 The Church of Love & Ruin has closed its doors after a successful four show run. You can still get a piece of show history from SFRstore in the form of LIMITED, "SIGNED & NUMBERED" SCREEN PRINT POSTERS AVAILABLE HERE
Hip-Hop, Vaudeville, New Orleans Bounce, Freakout Marching Band, Drag & Burlesque culture came together for the "Church of Love & Ruin," featuring DJ BEESKNEES and VOCKAH REDU & THE CRU (both representing New Orleans), the WHAT CHEER? BRIGADE, and B. DOLAN headlining with a cast of SPECIAL GUESTS. Hosted by JAMIE & SISSY DEWOLFE (of Oakland's "Tourettes Without Regrets" showcase), and featuring performances from Boston Drag Queen MS. NICHOLLE PRIDE. Those who witnessed will never forget the madness.
Check out this link to read the most comprehensive music journalism piece we've seen in a LONG time. THANK YOU, BOSTON PHOENIX!
Also, The Boston Globe has weighed in with some additional thoughts about what they call B. Dolan's "Art of chaos." Click HERE to read that. Extra bonus: there is a sneak peek video of B. Dolan with the marching band he is working with for these shows.
CHECK www.BDolan.net FOR ALL INFO