Bio
Written by Sage Francis
Sleep (Chris Tafoya) grew up in the old-school Mexican community of Farmington, NM. By the age of 9 he was writing and performing his own raps. Fast forward 20 years or so…he's now married with a 14 year old daughter, a 20 month old son, and a new album that  incubated in a pressure cooker for three years. It is called "Hesitation Wounds." Read More…
Latest Blog Entry
March 5th, 2014
The new Sleep of Oldominion album "Oregon Failure" drops on CD & MP3 Download on APRIL 15!
Pre-orders from SFRstore are available here.

Produced by Denver's Maulskull, Sleep of Oldominion's 'Oregon Failure' is a sorely needed return to spitting bars for the genre. Set to Maulskull's heavy hitting, up-tempo dreamtrap, the album's themes touch on trial and […]
Press
"Sleep can tear off syllables at a cheetah's pace like Aesop Rock or Busdriver, but even his fastest rhymes make sense." - XLR8R
"As a founding member of the Pacific Northwest's quintessential hip-hop crew, Oldominion, Sleep was always an unrelentingly austere MC. His solo albums are darkly introspective and personal." - Williamette Week
"Sleep's Hesitation Wounds is an adventure.  His words are fast, but he holds you by the collar and pulls you with him as you join him on his musical journey.  On the excursion, you'll learn that while you and Sleep may not have the same experiences, the emotions you share are equal.  Simply put, if you cannot relate to this album, you need to stop reading this and go find your soul. 4.5 out of 5 STARS." - URB Magazine
"A 'must buy' record for all hip hop lovers" - ParisDJs.com
Brand new SNAPBACK styles & colors are in stock now, including our first Sage Francis name logo cap! Click here to see them all.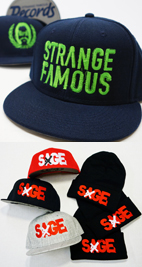 The SFR Flag Cape is an exact replica of the one worn onstage by Sage Francis! One of the most-requested Sage merch items of the past decade is finally here!