SAGE FRANCIS' new album "COPPER GONE" is OUT NOW on STRANGE FAMOUS RECORDS!

This is Francis' first studio album in four years and it features beat production from such long-time collaborators as BUCK 65, ALIAS, CECIL OTTER, and REANIMATOR.
"Copper Gone" CDs, Cassettes, and MP3 Downloads are AVAILABLE & SHIPPING NOW from SFRstore! The 2xLP Vinyl version drops JULY 15.

ALL "Copper Gone" CD/LP/Cassette packages now include INSTANT MP3 DOWNLOADS!
Order your hard copy, get your digital album right after completing your purchase!
To order "Copper Gone" from SFRstore:
"COPPER GONE" cover illustration by Inkymole, design by Irena Mihalinec.
Check out "MAKE 'EM PURR", the latest video from "Copper Gone"!:

Watch "GRACE", the first video released from "Copper Gone":
Check out "Vonnegut Busy", the first track released from the album!

FREE DOWNLOAD: A live version of "Thank You" recorded at the Daytrotter studio at SXSW 2014!:

COPPER GONE MERCH IS NOW AVAILABLE HERE
- including options with SIGNED CDs, 2xLP COLORED VINYL, Cassettes, T-Shirts, Hoodies, and more!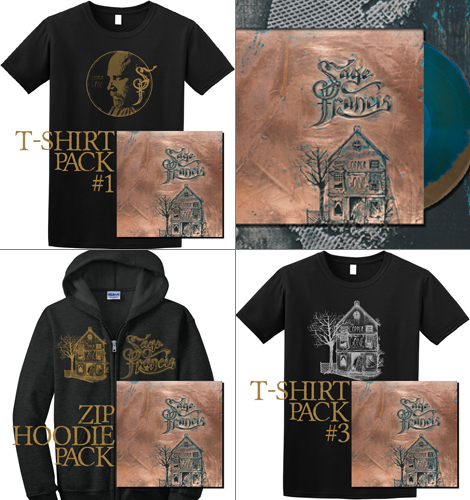 NEW FOR FALL 2014! Inspired by the song of the same name from the 'Copper Gone' LP, Sage Francis "MAKE EM PURR" T-SHIRTS!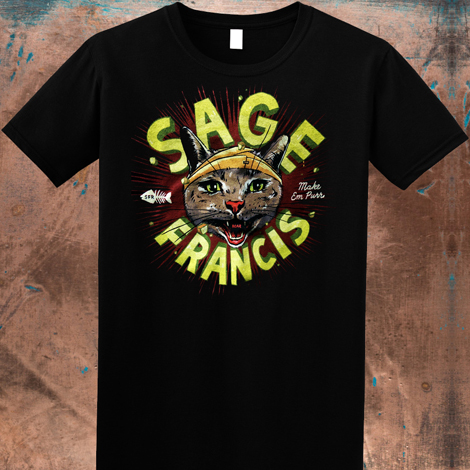 "Copper Gone is a massive emotional outpouring in rap form. The grit, grime, and brutal reality of being an independent hip-hop artist for decades all has been mashed into a whirlwind survey of how brilliance, independence, and creative commitment are dealt with today—all from perhaps our greatest modern-day poet." – ALARM MAGAZINE
Although we do ship worldwide,
our UK fans can order this album
directly from Speech Development Records
here.
——————————————————————————————————
"Copper Gone Tour" UK/Europe/Australia run is going on now! Dates for the tour are listed below.  TICKETS ARE ON SALE NOW!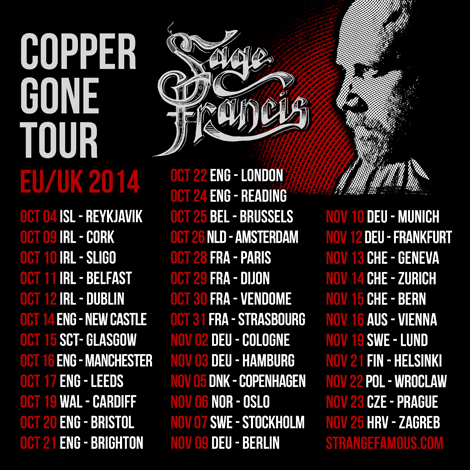 Watch Sage's tour announcement press conference go off the rails & hear the song "Pressure Cooker" from Copper Gone!: