SAGE FRANCIS' new album "COPPER GONE" is OUT NOW
on STRANGE FAMOUS RECORDS!

All upcoming Copper Gone Tour Dates
are listed at www.tinyurl.com/CopperGoneTour
————————————————-
This is Francis' first studio album in four years and it features beat production from such long-time collaborators as BUCK 65, ALIAS, CECIL OTTER, and REANIMATOR.
"Copper Gone" CDs, 2xLP Vinyl, limited edition Cassettes, and MP3 Downloads are AVAILABLE & SHIPPING NOW from SFRstore!

ALL "Copper Gone" CD/LP/Cassette packages now include INSTANT MP3 DOWNLOADS!
Order your hard copy, get your digital album right after completing your purchase!
To order "Copper Gone" from SFRstore:
All things "Copper Gone" (including T-Shirts, Hoodies, Posters, Stickers) HERE

"COPPER GONE" cover illustration by Inkymole, design by Irena Mihalinec.
Check out "MAKE 'EM PURR", the latest video from "Copper Gone"!:

Watch "GRACE", the first video released from "Copper Gone":
The lyric video for "The Place She Feared Most":
Check out "Vonnegut Busy", the first track released from the album!

FREE DOWNLOAD: A live version of "Thank You" recorded at the Daytrotter studio at SXSW 2014!:

COPPER GONE MERCH IS NOW AVAILABLE HERE
– including options with SIGNED CDs, 2xLP COLORED VINYL, Cassettes, T-Shirts, Hoodies, and more!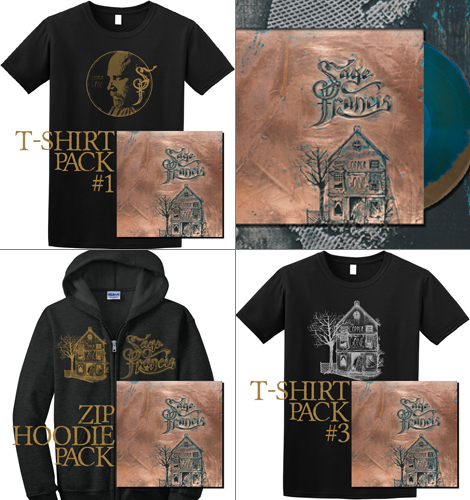 Inspired by the song of the same name from the 'Copper Gone' LP, Sage Francis "MAKE EM PURR" T-SHIRTS!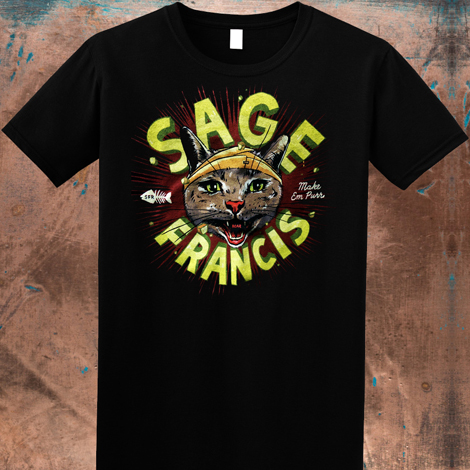 "Copper Gone is a massive emotional outpouring in rap form. The grit, grime, and brutal reality of being an independent hip-hop artist for decades all has been mashed into a whirlwind survey of how brilliance, independence, and creative commitment are dealt with today—all from perhaps our greatest modern-day poet." – ALARM MAGAZINE
Although we do ship worldwide,
our UK fans can order this album
directly from Speech Development Records
here.
——————————————————————————————————
"Copper Gone Tour" is going on now!
All upcoming Copper Gone Tour Dates are listed at www.tinyurl.com/CopperGoneTour
4/17 Jacksonville, FL @ Underbelly TICKETS
4/19 Tampa, FL @ Orpheum TICKETS
4/23 Orlando, FL @ The Social TICKETS
5/2 Las Vegas, NV @ LVCS TICKETS
5/7 Flagstaff, AZ @ The Green Room TICKETS
5/8 Tucson, AZ @ Congress TICKETS
5/9 Phoenix, AZ @ Crescent Ballroom TICKETS
5/16 Narragansett, RI @ The Wheel House TICKETS
5/21 Santa Barbara, CA @ Velvet Jones TICKETS
5/22 San Diego, CA @ Casbah TICKETS
5/23 Corona, CA @ M15 TICKETS Door: 7pm, 18+
5/24 San Luis Obispo, CA @ SLO Brewing Company TICKETS
5/25 Santa Cruz, CA @ Catalyst TICKETS
5/28 Honolulu, HI @ The Republik (ALL AGES) TICKETS
6/13 Jackson, WY @ Contour Music Festival (daytime, main stage) INFO
6/14 Salt Lake City, UT @ Urban Lounge TICKETS
6/15 Grand Junction, CO @ Mesa Theatre TICKETS
6/17 Durango, CO @ Animas City Theater TICKETS
6/18 Fort Collins, CO @ Aggie Theatre TICKETS
6/19 Denver, CO @ Cervantes Masterpiece Ballroom TICKETS
6/20 Colorado Springs, CO @ Black Sheep TICKETS
6/23 Albuquerque, NM @ Sister Bar TICKETS
6/25 Austin, TX @ Red 7 TICKETS
6/26 Dallas, TX @ Club Dada TICKETS
6/28 New Orleans, LA @ Gasa Gasa TICKETS
6/30 Pensacola, FL @ Vinyl Music Hall TICKETS
7/1 Gainesville, FL @ High Dive TICKETS
7/2 Atlanta, GA @ Vinyl TICKETS
7/3 Carrboro, NC @ Cat's Cradle TICKETS
7/14 Kansas City, MO @ The Riot Room TICKETS
7/15 St. Louis, MO @ Firebird TICKETS
7/16 Covington, KY @ Madison Theatre TICKETS
7/17 Columbus, OH @ The Basement TICKETS
7/18 Pittsburgh, PA @ Altar Bar TICKETS
7/19 Cleveland, OH @ Grog Shop TICKETS
7/21 Pontiac, MI @ The Pike Room at Crofoot Ballroom TICKETS
7/22 Grand Rapids, MI @ The Pyramid Scheme TICKETS
7/23 Chicago, IL @ The Bottom Lounge TICKETS
7/25 Minneapolis, MN @ First Avenue TICKETS
8/28 Virginia Beach, VA @ ICE music festival TICKETS


Watch Sage's tour announcement press conference go off the rails & hear the song "Pressure Cooker" from Copper Gone!:


If your city hasn't been listed, that does not mean there's no love for your city. More dates will be booked nationally and internationally. Remember to sign up for the mailing list at Strange Famous Records so you don't miss any updates.