Sage Francis & B. Dolan in Scotland, England, Finland + more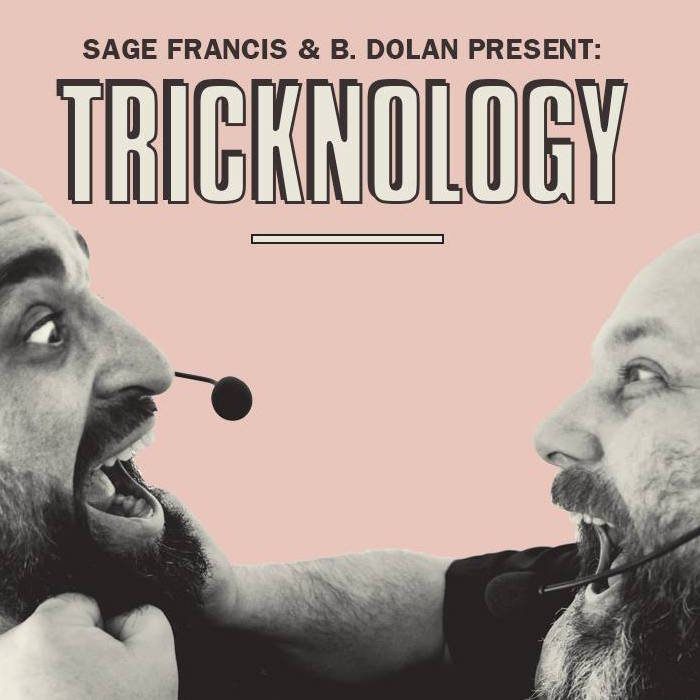 Following their award winning/smash success 2016 Fringe Festival performance, Sage Francis and B. Dolan return to Edinburgh, Scotland this August with TRICKNOLOGY– a "self-help yourself seminar" that will span 21 shows.
TICKETS FOR ALL FRINGE SHOWS HERE: http://www.seetickets.com/tour/sage-francis-b-dolan-present-tricknology
In this hour-long demonstration of patented spoken word and freestyle techniques, the legendary Epic Beard Men expose the diabolical trickery of slam poets, battle rappers, improv comics, mentalists, self-help gurus, li(f)e coaches, faith healers and reality TV presidents. This is what The Secret would be if it actually worked. And if it was funny.
'Think it, see it, feel it, know it, smell it, stop it!'
It's time to violently open your chakras and get your squad goals realigned by these two monsters of the stage.
You can put some respeck on the Epic Beard Men name by sharing the Facebook event page: https://www.facebook.com/events/1551073074911208/
IF YOU'RE ONLY LOOKING FOR MUSIC SHOWS, here's what the bearded boys have planned in 2017:
Aug 19 – Stirling, UK at Doune The Rabbit Hole Festival (2pm) TICKETS
Sep 29 – Borlange, Sweden @ Broken Dreams
Oct 6 – Riga, Latvia @ Noliktava No3
Oct 7 – Vilnius, Lithuania @ nArauti
Oct 11 – Tampere, Finland @ Jack The Rooster TICKETS
Oct 12 – Helsinki, Finland – LeBonk TICKETS
Oct 14 – Tallinn, Estonia – Kohvik Sinilind
Oct 19 – Bristol, UK @ Fleece
Oct 20 – London, UK at Heaven TICKETS
Oct 21 – Preston, UK at LiVe Venue TICKETS