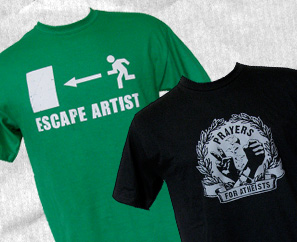 Brand new gear from Sage Francis, and the first official shirt for Jared Paul's band, Prayers For Atheists!
The mystery man from Sage's "Escape Artist" video reappears in wearable form, with the Sage artist image emblazoned with "Ain't No Magic In The Breakdown" on back. Click here to check it out.
Locally printed on US-made American Apparel shirts, the PFA shirt boasts the Prayers For Atheists logo on front and the brand new SFR logo on the back. Peep game by clicking here.