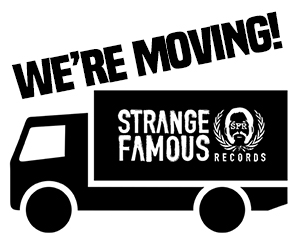 PLEASE READ THE INFO BELOW BEFORE YOU PLACE YOUR NEXT SFRstore ORDER!!!
SFR is moving our headquarters!
The Strange Famous gang is packing up all of our worldly possessions & moving… well, basically down the street.
From a little city in Rhode Island, USA to a medium town a few miles away, into a new office space that will help us grow into even an more Stranger & Famouser SFR.
"But #StrangeFam, I'm in [FAR OFF LAND]. How does this affect ME?"
It will only effect you if you place an SFRstore order between Monday June 20, 2016 and Sunday June 26 – all orders placed between those dates will be held for processing until Monday June 27.
We apologize for the inconvenience – we need to pack up everything, move everything, and unpack in our new space. We plan to have all of this done between the dates noted above.
———–

To help make up for the delay, we are offering everyone who orders between June 20 – June 26 a bonus gift with their order (on top of the #SpringCleaningSFR items that we're including with every package).
Each order can choose either 1 FREE Strange Famous CD or CASSETTE (choose from titles found here & here)
-OR-
a 20% OFF coupon code valid on any single order between July 1, 2016 – November 1, 2016!
Just indicate in the notes field of your order which you prefer & we'll make sure you get your bonus.
———–
Please send any questions or inquiries to customerservice@strangefamous.com, and we thank you for your patience & your support of SFR!
best,
the SFR crew
Take a final tour through the current SFR HQ, our home for the last 8 years –
this is a video shot about 6 years back, and we've grown a bunch since then – and there's still much more to come!