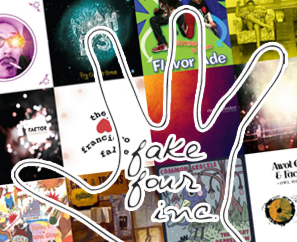 SFR's homies-to-the-immediate south, Fake Four Inc., have a vast catalog of releases that is as deep as it is wide, with records ranging from dusty underground alternative hip hop to acoustic and electronic-tinged indie pop and rock.
SFRstore has previously offered titles for sale from FF label boss Ceschi, old friends Sole and Awol One, and Oldominion-repping Dark Time Sunshine, but now we're proud to add a virtual ton of new titles to our stock from many, many members of the Fake Four roster of artists.
Most CDs are as low as only $9.99!
Click here to check out the Fake Four Inc. titles available from SFRstore!
Fake Four titles now available on CD at SFRstore include:
Awol One & Factor – "Owl Hours"
Factor – "Chandelier"
Ceschi – "They Hate Francisco False"
Dark Time Sunshine – "Cornucopia"
Ron Contour & Factor – "Saffron"
M!C KING & Chum – "Flavor Ade"
Myka 9 – "1969"
Cars & Trains – "The Roots, The Leaves"
Blue Sky Black Death – "Third Party"
Common Grackle – "Great Depression"
Noah23 – "Fry Cook On Venus"
Electric President – "The Violent Blue"
Delby L – "Nine Skies"
Boy In Static – "Candy Cigarette"
Click here to peep our entire selection of $9.99 CDs, including classic hip hop from many of your favorite old school and indie rap artists!