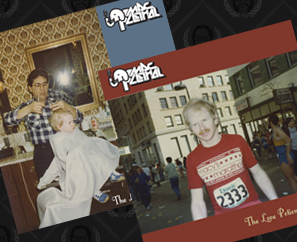 An AUTOGRAPHED Re-Release of classic Mac Lethal! Out of print for years, SFR has these exclusive reissues from Black Clover Records available in very limited quantities.
"Love Potion Collection 1 was an assortment of songs written in 2002/2003. My friend Sage Francis invited me to go on the Fuck Clear Channel tour, and since I didn't have any sort of record deal at the time. Or album for that matter. I decided to find my favorite 14-15 tracks I had laying around, and press them up on a CD.
Love Potion Collection 2 was the exact same concept. Except these were my favorite 16 nomadic songs I had laying around, that I pressed to CD to sell on the P.O.S Is Ruining My Life Tour in 2006. Some people say this is my best piece of music in terms of lyric writing.
So Black Clover Records has decided to no longer make them "Out of print" and re-release these bad boys! Both have new packaging, brand new covers (LPC1 is my dad after running the Oakland marathon/ LPC2 is
me getting my haircut when I was 4 years old in my suede Adidas Campus shoes). Also, I autographed ALL of the cds before we shrink wrapped them. The autograph is actually INSIDE the shrink wrap. So if you decide to purchase 2 of them, you can save 1 for your collection, and listen to the other one.
I suggest you buy Love Potion Collections 1 and 2 together, get some popcorn, and go on a ride through my early 20's as a rapper." – Mac