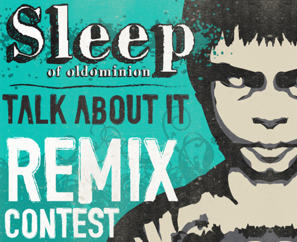 "Talk About It" is the first single from Sleep's long-awaited SFR debut Hesitation Wounds. The full length LP is in stores now!
The Sleep of Oldominion "Talk About It" Remix Contest had 43 entries in all. Thank you to everyone who contributed.
The panel of judges, led by Sleep himself, have selected their own winner from the pool. The 'electoral vote' goes to AUPHEUS!
Aupheus is a sick UK production mastermind who previously blessed us with the beat for the SFR posse cut "Sea Legs," available on Sage's Sick Of Wasting mixtape.
Click here for a FREE DOWNLOAD of the Aupheus Remix!
The public voting process was a lively and furious one, and, with a surprise last minute rally, the winner of the popular vote is DEATH IN A MINIVAN!
Allegations of voter fraud and demands of a recount have left the SFR staff wading in a sea of hanging chads, but come now people, this is some honor system ish. No elected officials will have us under their thumb in a hellish 8-year-aftermath. Chin up. Better luck next time.
Click here for a FREE DOWNLOAD of the Death In A Minivan (I.A.M.) Remix!
Both winners will receive their own Hesitation Wounds First Aid Kit. Aupheus' remix will be offered for free download as the Clip of the Week on the SFRstore homepage this week, with Death I.A.M.'s in the chamber for sometime in the future.
Thanks again to all who participated in the Sleep "Talk About It" Remix Contest! Hope to see your names again next time.