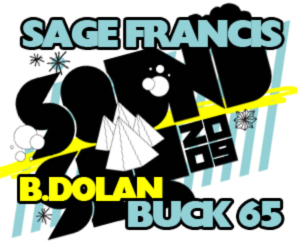 Canterbury Park – Shakopee, MN
Rhymesayers Entertainment and Rose Presents bring you the second annual Soundset Festival: the official Midwest kick-off of the summer with over eight hours of the best independent Hip Hop music in one day. It all goes down at Canterbury Park in Shakopee, MN (rain or shine).
Confirmed artists for Soundset 09 include: Atmosphere, The Pharcyde, MF Doom, Brother Ali, Freeway & Jake One, Sage Francis with B. Dolan, Immortal Technique, P.O.S, El P with Mr. Dibbs & TMQ, Eyedea & Abilities, Abstract Rude + Aceyalone & Myka 9 = Haiku D'Etat with DJ Drez, Prince Paul, Buck 65, Blueprint with DJ Rare Groove, DJ Numark, Heiruspecs, Cunninlynguists, Blue Scholars, Sims of Doomtree, One Be Lo, I Self Devine, Awol One, Mike Mictlan & Lazerbeak = Hand Over Fist of Doomtree, Toki Wright, Grieves, Unknown Prophets, Lil Buddy Mclain, Just.Live, Kristoff Krane, El Guante, Plain Ole Bill, BK One, King Otto, and DJ Nikoless.
With options of a main stage, Fifth Element stage, DJ tent with a national b-boy/b-girl battle, slow & low custom car show and 3rd Lair skate demo, Soundset is guaranteed to bring the fun for the whole family!
Tickets are on sale NOW to the general public through www.ticketmaster.com and Fifth Element. General admission tickets are $30 plus applicable fees (parking is included in ticket price), After Party and VIP options are also available.
www.soundsetfestival.com www.myspace.com/soundset