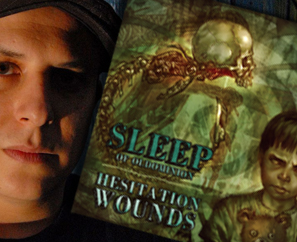 It's finally here:  Sleep's long-awaited SFR debut has arrived in stores! You can still click here to lock down your copy with some exclusive Strange Famous bonus items today.
All orders purchased through SFRstore.com will include an 11×17 Hesitation Wounds poster SIGNED BY SLEEP and a Strange Famous Records sticker!
Click here for the FREE DOWNLOAD of the official leak of Sleep's "Lothar" featuring Del Tha Funkee Homosapien!
"This is an infinite love in its purest form. It's not the norm but it's all I know so here it goes.
This speaking from the heart tore my life apart to bleed for ya, I just thought you should know." – Sleep of Oldominion from "Talk About It"
After a decade of trail-blazing across America and cementing his reputation as one of underground hip hop's true buried treasures, SLEEP of Oldominion & Strange Famous Records are proud to announce the release of his third album HESITATION WOUNDS.  Due out June 30, the album combines the witty and shocking decrees from the mind of vocalist Sleep with a high-speed barrage of sonic thunder from a selection of indie hip hop's finest beatsmiths.
The first single will be "Talk About It," an old school-style cut displaying a dizzying flow produced by SFR labelmate Reanimator. Lyrically, Sleep takes a battle stance against manufactured artists while refusing to dilute his style or message for the sake of mainstream acceptance.
"Sleep can tear off syllables at a cheetah's pace like Aesop Rock or Busdriver, but even his fastest rhymes make sense." – XLR8R
Hesitation Wounds is a vivid and intense journey through the psyche of one of underground hip hop's longest tenured and most promising emcees.The follow-up to Sleep's acclaimed 2005 LP Christopher, the album features guest appearances by Del tha Funky Homosapien, Grayskul, and boasts the production credits of Reanimator, Zebulon Dak and Smoke. Constructed from a mix of samples, live instrumentation, and a myriad of styles that all assist in the storytelling of a lifelong hip-hop veteran who has much more to offer the game than brag raps. This is real life in all its complexities, compressed into 13 solid tracks, and delivered in a way that only Sleep could do.
A co-founder of the Oldominion crew, a conglomerate of hip-hop artists based out of the Pacific Northwest, Sleep and his people have been putting it down for Seattle and Portland for the past decade. Hesitation Wounds displays an new level of strength in songwriting and the signature style that earned Sleep a devout following in the underground scene.
Click here to order your copy of Hesitation Wounds!
The complete track listing for Hesitation Wounds:
01 Intro (produced by Pale Soul.)
02 Day Dreamer (produced by Zavala, scratches by DJ Z-One, horns by Ross Liquid, additional vocals Toni Hill.)
03 Talk About It (produced by Reanimator.)
04 Who to Point the Finger At (produced by Reanimator.)
05 Ginelli (produced by Samix, scratches DJ Z-One. Horns by Ross Liquid, Lambs Bread and Jamzels. Additional vocals by Toni Hill and Scott Preston.)
06 Spent (produced by Zavala, scratches by DJ Z-One.)
07 Orchestra of Strangers (produced by Leon West, featuring Toni Hill.)
08 Hesitation Wounds (produced by Zavala, featuring Grayskul.)
09 Commercial (produced by Pale Soul.)
10 Lothar (produced by Zavala, scratches by DJ Z-One, featuring Del Tha Funkee Homosapien.)
11  Get It (produced by Smoke, scratches by DJ Z-One.)
12 So Far Away (produced by Samix, scratches by DJ Z-One, additional vocals by Toni Hill.)
13 Roll Call (produced by Zavala.)