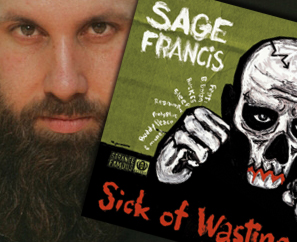 Sage Francis has released the 5th installment of his "Sick Of" mixtape series, SICK OF WASTING!
Sick of Wasting, a mix of songs spanning from 1996-2009, is available as a free download on various online portals including Anti.com and here at StrangeFamous.com.
CLICK HERE TO DOWNLOAD YOUR FREE MIXTAPE!
If you care to pay for music (no guilt trip) and own a physical copy of Sick of Wasting, we are offering signed copies for $9.99. This is an exclusive and limited item that will not be available in stores.
Sick of Wasting tracklisting:
1) Strange Fame (2009)
2) S.A.G.E. Bastard (prod. by Buck 65, 2009)
3) I Trusted You (beat by Buck 65, 2009)
4) Needle (beat and scratches by Buddy Peace, 2009)
5) House of Bees (feat. B. Dolan, beat by Buck 65, 2009)
6) Jaw of Steel (beat and scratches by Reanimator, 2009)
7) If I Go To Hell (demo, 1997)
8) Conspiracy to Riot (beat & scratches by Reanimator, 2008)
9) Be a Star (beat by Buck 65, 2007)
10) Sea Legs (feat. B. Dolan & Sleep. Scratches by Buddy Peace.
Additional vocals by Jared Paul and Curtis Plum. Beat by Aupheus,
2009.)
11) Flashback 96 (home recording, 1996)
12) Masturbate Your Brain (AOI demo, 1997)
13) SFR Pays Dues (feat. B. Dolan & Prolyphic, 2008)
14) Pump (beat and scratches by Buddy Peace & Reanimator, 2009)
15) Revenge of the Ogre (interlude w/ Trinity)
16) Who Farted? prt 1 (courtesy of XAUL ZAN)