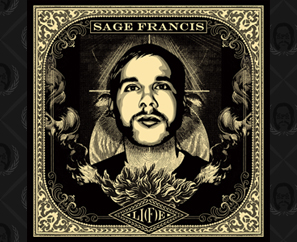 Sage's new album, "LI(F)E", is now officially out! Three exclusive SFRstore.com packages for the new album are available now!
*CD BASIC package $14.99
-Sage "Li(f)e" CD
-16 page lyric booklet
-Li(f)e button
-SFR sticker

*CD DELUXE package $19.99
-Sage "Li(f)e" CD
-Li(f)e poster
-Li(f)e button
-16 page lyric booklet
-SFR roster poster
-SFR sticker

*Double vinyl LP package $19.99
-Sage "Li(f)e" Double Vinyl LP
-Free digital download of the album (download card within the LP)
-Li(f)e poster
-Li(f)e button
-SFR roster poster
-SFR sticker
The new album Li(f)e by hip hop iconoclast Sage Francis is an impassioned and timely critique of cultural hypocrisy and organized religion. The record's cover art has been created by renowned artist and illustrator Shepard Fairey who first gained notoriety with his "André the Giant" street art and later with his iconic Obama "Hope" poster. For the cover of Li(f)e Fairey has employed his distinctive agitprop style to create a suitably provocative image of an unwavering and winged Francis caught in the crosshairs as flames rise beneath him.
THE MUSIC
Musically Li(f)e is refreshingly unique. Francis' biting and sardonic wordplay now further empowered by talented musicians including producer Brian Deck (Modest Mouse, Iron and Wine) and Jim Becker and Tim Rutili of acclaimed Chicago outfit Califone.
Francis has also enlisted a roster of uniquely talented songwriters including ex Grandaddy frontman Jason Lytle, Chris Walla of Death Cab for Cutie, Tim Fite, members of Calexico, DeVotchKa, and Mark Linkous of Sparklehorse – each of whose compositions were then interpreted by Francis and the band. The result is a challenging and defiantly honest new album from an ever evolving artist.
THE TOUR
Francis will be embarking on a North American tour beginning with B. Dolan and Free Moral Agents starting this May. Click here for tour dates.