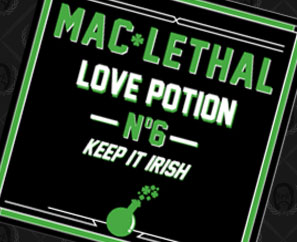 An SFRStore exclusive: Love Potion 6 – Keep It Irish is the latest from Mac Lethal!
This 11-track disc is only available direct from Mac or here at Strange Famous! Limited to 500 copies, this collection won't be released for digital download until all CDs have been sold, and only a small slice of that CD pie is up for grabs from SFR. Get yours now before they're gone 4-eva.
Click here to order your copy.
Track Listing:
1. Irish Funeral
2. Neck Cracker
3. The Gas Station
4. Delusional
5. Rattlesnake vs. Mongoose
6. How to Build a Warhead
7. Godzirra
8. Toys
9. Mean Jab 2: Revolutions: The Unauthorized Prequel Version of the
Sequel UnCut Director's 3D Deluxe Criterion Edition
10. Wooden Heart
11. Cover My Tracks