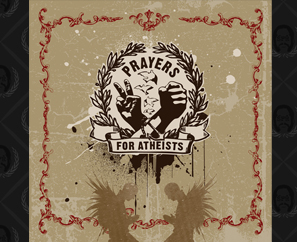 Prayers For Atheists have delivered their debut self-titled EP on Strange Famous Records, adding a touch of punk rock to the indie-hop label.
PFA's debut is available now on CD or as a digital download!
Fronted by long-time SFR affiliate Jared Paul and punk rock journeyman Alan Hague, PFA delivers the well crafted and thought provoking lyrics people have come to expect from Strange Famous. Thrashing rapidly between mid-80's hardcore punk, counter-culture victory anthems, and politically-slanted rap, PFA gracefully snakes in and out of genres while escaping lazy categorization.
Using creative concepts to address pressing topical issues, the music remains fueled by the message while the band demonstrates a sense of victory and hope. These songs are labor testimonials, dance jams, and anti-war hymns executed with heart, craft and integrity. This self-titled 8 song EP is a forceful opening statement for a group who intends on shaking things up while having fun doing it. It's not macabre music. And it's not cynical. That would be too easy.
With years of anti-war organizing and a storied career laden with protest arrests, Jared Paul has become somewhat of a modern folk hero within the under ground American counter-culture. His most notable run-in with the law happened during the 2008 Republican National Convention, where Jared was the victim of a mass arbitrary arrest.
Fans and supporters jumped to action, creating a fundraiser via www.ConspiracyToRiot.com, from which an attorney was hired and the case was eventually dropped. This particular victory is celebrated in PFA's lead-off single, "Psalm for St. Paul."
The full Prayers For Atheists EP is streaming now at PFA's MySpace! Click here to take a listen.
TRACKLIST:
01 Psalm For St. Paul
02 Patriarchy Presents
03 Coat Hanger
04 Tom Delay
05 Lot's Wife
06 ROS
07 Bike Song
08 Wrong Horse