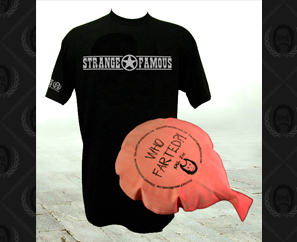 Sure, on the surface, these two items have nothing to do with one another. But when you dig deeper… nope, still nothing.
But the gang at SFR was so jazzed at the prospect of people wearing the new Strange Famous t-shirt while simultaneously slipping the new Xaul Zan "Who Farted?" Whoopee Cushion under their homies' hindquarters, that we just had to unveil them in tandem. We were also excited to use the word 'jazzed.'
The Strange Famous 'Star Logo' T-Shirt
'SFR Star' design printed on front with the SFR logo printed on the right sleeve in light grey ink on black 100% Cotton pre-shrunk Gildan t-shirts. Design by Irena Girlbot.
Available in Mens' sizes S-XXL.
The Xaul Zan "Who Farted?!" Whoopee Cushion
Xaul Zan bumrushed Sage Francis' Sick Of Wasting mixtape and got the world wondering "Who Farted?"
Now, at long last, you can decide the answer.
These state-of-the-art pink Whoopee Cushions are the cutting edge in gas-noise-making technology, yet surprisingly simple to use: just fill with air, place on your unsuspecting chum's seat, and let the hilarity ensue.
Minus any troublesome noxious emissions, of course.
Each cushion is emblazoned with the Xaul Zan logo, the SFR website, and "Who Farted?!" in Xaul's own handwriting.
Also available in a special package deal with Sage's Sick Of Wasting Signed Limited Edition CD here.