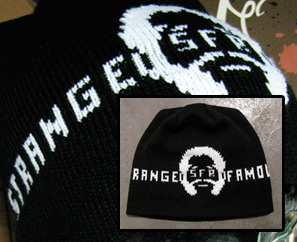 The long-awaited first piece of SFR headgear is here!
Call it a knit hat, a beanie, a ski hat, whatever you please, it'll keep you warm on chilly spring nights and in the dead of winter. The SFR logo in white with 'STRANGE' and 'FAMOUS' wrapped around the sides of a black hat.
100% Acrylic. One size fits most. Machine wash in warm water. Lay flat to dry. Do not iron. 100% Made in the U.S.A.