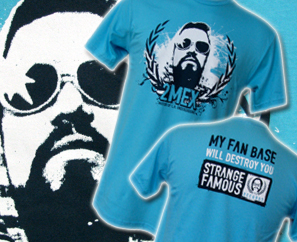 Declare your support for the Mayor of the L.A. Underground! The first SFR t-shirt for new crew member 2MEX is a navy and white design on a fresh west coast-friendly aqua shirt.
Front is 2Mex's SFR artist image with "Mayor of LA Underground" text.
Back is the SFR logo with 'My Fan Base Will Destroy You' text.
Printed on 100% Cotton American Apparel t-shirts, designed by Irena Girlbot.
2Mex's group The Returners has a brand new digital album available now exclusively at SFRstore.com! Check it out here.