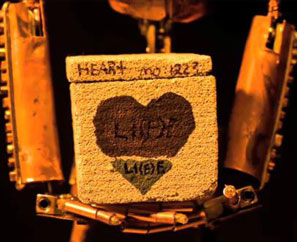 "Love the Lie", the second video from the album "LI(F)E" by Sage Francis , is out now! The song is co-written by the late Mark Linkous of Sparklehorse. Many thanks to Jim Foltice for putting in the long hours to make this stop-motion video happen. ENJOY it and spread the love. Life. Love. GOD… Click here to check out the video for "Love The Lie"!
Also, available now: Sage Francis' "Li(f)e" album, now on marbled red vinyl!
Limited to 500 copies, this collector's version of the record comes SIGNED by Sage himself, and is only available at SFRstore.com. All copies of the DOUBLE Red Vinyl will come with Deluxe Package extras, including stickers, buttons, posters, and more! Plus, FREE digital download of the album (download card within the LP)!