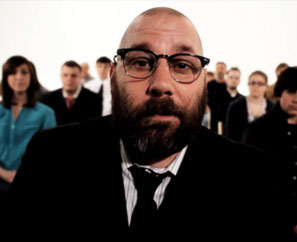 "Best of Times" is the second single from the new Sage Francis album, LI(F)E. Co-written by Sage and French composer Yann Tiersen, who is best known for the Amelie soundtrack, with Brian Deck, who has worked with Iron & Wine and Modest Mouse, tackling production duties. "Best of Times" is an emotionally driven track that builds from minimalist ambient to a soaring live band atmosphere with Francis delivering autobiographical rhymes.
Check out the new video for "Best of Times":
[youtube]http://www.youtube.com/watch?v=VA8hzUDXvtk[/youtube]
"Best of Times"
Directed by Kyle Harbaugh
Shot by Hanu Brown-Eagle
Animation and fancy post-editing by Scott Reece
PLEASE SHARE THIS VIDEO ONLINE WHEREVER YOU CAN!
Right click here and 'save as' to download your FREE mp3 of "Best of Times"!
Click here to read Sage's blog on the creation of the song, plus a transcript of the lyrics!
Exclusive SFRstore package deals for both the CD & Vinyl versions of LI(F)E are available now here!