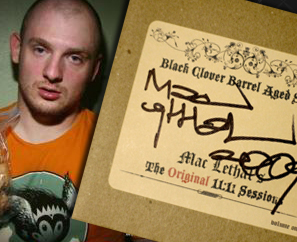 Extremely Rare and EXCLUSIVE. "The Original 11:11 Sessions" CD, now at the new low price of $11.99! Each CD comes personally SIGNED by Mac Lethal!
Click here to order your copy today!
Mac Lethal has decided to part ways with Rhymesayers Entertainment. We wish both of them the best of luck. We're all homies in the industry shitstorm. Check out a piece of the history of this chapter of Mac's career, the original version of "11:11", before it's gone forever. CD comes signed!
The original version of Mac Lethal's "11:11" contains 15 unique tracks that did not appear on the final version of his album released on RSE. In Mac' own words, "While I am very proud of the version of 11:11 that came out in 2007, I have wanted the world to listen to this version for some time now. All of these songs were written in 2004. Death, humor, sensualism. 11:11's original draft."
It's understood that Mac Lethal is a prolific artist, so he can easily pump out an album's worth of material in a month's time, but it's a shame that a collection of songs this good did not hit the store shelves. Thankfully, it is now available for those who know where to find it.
Tracklisting
1. Absolutely Nowhere
2. Shotgun
3. Hammered In
4. Bloom
5. Toad
6. In My Dreams
7. Bareknuckle Chris
8. Oak Tree
9. Baby Powder (w/ Joe Good)
10. The Original Make-out Bandit
11. The Sketchbook
12. Halo
13. Tummy
14. Epilogue
15. Vanish