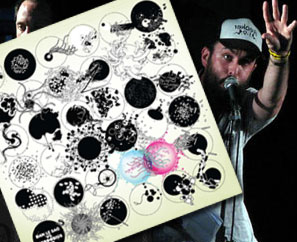 The new dan le sac Vs Scroobius Pip album! The record is unavailable in the U.S. and is an import-only item, but Dan & Pip were kind enough to send over a grip of copies of both the CD and Vinyl versions for us to sell here at SFRstore. The vinyl version comes with a CD of the album inside the cover! Get 'em while they last.
Moving away from the 'indie' sound of their debut record, 2008's 'Angles', Dan Le Sac vs Scroobius Pip's second album features a much more dance-oriented production. Spoken word poet-turned rapper Scroobius Pip's completely unique lyrics and delivery are as present as they were on 'Angles', although Dan Le Sac's production now has clear drum 'n' bass influences, and incorporates elements of dubstep and electro. 'The Logic Of Chance' is preceded by the single 'Get Better'.
Tracklisting:
1. Sick Tonight
2. Five Minutes
3. Cauliflower
4. Great Britain
5. Get Better
6. Inert Explosions
7. Stake A Claim
8. Beat, The
9. Last Train Home
10. Snob
11. Cowboi
"The technical wizardry and backing beats on Logic Of Chance cannot be underestimated, they do more than back the 'singer', they enhance the album. Undeniably though what makes Logic.., as well as its predecessor, is the supreme brilliance of the lyrics. To compliment Pip (and misquote John Cusack), he is somewhat loquacious, garrulous, verbose and chatty……and God bless him for that. A true wordsmith with verbal dexterity, Scroobius Pip is a national treasure. The Logic Of Chance demands to be heard and placed immediately on repeat." – ContactMusic.com


Dan & Pip's SFR debut 'Angles' is now available on import-only VINYL! Click here to check it out.