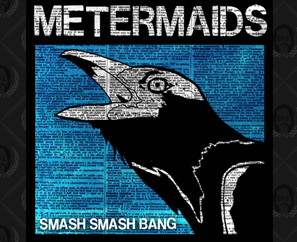 SFR's Brooklyn homies Metermaids have delivered a FREE 5-song EP called "Smash Smash Bang" featuring Prayers For Atheists' frontman Jared Paul!
CLICK HERE FOR YOUR FREE DOWNLOAD!
Metermaids' new EP "Smash Smash Bang" sounds exactly like its title implies: It's five songs and fifteen minutes of smash-mouth, heart-on-your-sleeve release, the music landing somewhere between hip hop and garage rock.
Metermaids have made their name with the raw energy of their live show, including an eye-opening performance at the 2009 Brooklyn Hip Hop Festival (among the likes of Smif and Wessun, Dead Prez, DJ Premier, and Pharoahe Monche), and "Smash Smash Bang" looks to capture that energy on record.
The EP is Metermaids' first release since their critically acclaimed mash-up album "Nightlife in Illinoise," which combined their 2008 album "Nightlife" with Sufjan Steven's classic "Illinoise," and landed Metermaids in the pages of The Village Voice and Playboy Magazine, as well as on influential websites like Spin.Com and Wired.Com, all while receiving over 10,000 downloads in two months.
Tracklisting:
1.  Blackout Baby
2.  Planes Down
3.  Shades Off (Featuring Jared Paul of Prayers For Atheists)
4.  Matchbooks
5.  Ghosts in the Radio
Metermaids' 2008 LP "Nightlife" is also available at SFRstore.com on CD and as a Digital Download.