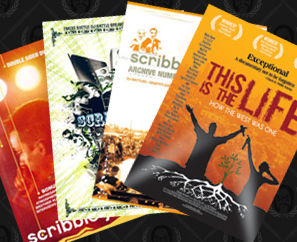 A mess of new DVDs have hit the virtual shelves of SFRstore.com: This Is The Life, a documentary on the genesis of West Coast underground hip hop in the '90s, featuring SFR crewmember 2MEX, and three different Scribble Jam DVDs to soothe your sadness over the cancellation of the 2009 installment of the legendary indie hop festival. These Scribble DVDs feature appearances from Sage Francis, Atmosphere, Brother Ali, Mac Lethal, MF Doom, and many many many many more.
In 1989, a collective of young artists gathered at a storefront health food cafe in South Central LA. Their mandate? To explore and expand the musical boundaries of hip hop.
Directed by Ava DuVernay, THIS IS THE LIFE is a feature-length documentary chronicling "The Good Life" emcees, the alternative music movement they developed, and their worldwide influence on the artform.
Featuring new interviews with: Myka Nyne and PEACE of Freestyle Fellowship, Chali2na and Cut Chemist of Jurassic 5, NgaFsh, Riddlore, Tray-Loc & Wreckless of CVE, Abstract Rude and Zulu Butterfly of ATU, Ellay Khule of Hip Hop Klan, Medusa of S.I.N, Born Allah, Ganjah K, Fatjack, JMD, Omid, Pigeon John, 2Mex of OMD, Jyant & Eve of Figures of Speech, Big Al, T-Love of Urban Props, Sheena Lester & B+ of Rappages, Mear One, Mike Nardone of KXLU's We Came From Beyond, Garth Trinidad of KCRW's Chocolate City, Monalisa Murray, Jah Orah, Hines, Busdriver, Monique Matthews, Keen and B. Hall & R. Kain Blaze, co-founders of The Good Life.
Scribble Jam Archive Vol 1 DVD
ALL IN ONE DVD: 2000 VIDEO #4, 2001 VIDEO #5 & THE BEST OF In 1996 Scribble Magazine and Mr. Dibbs began a festival to celebrate the first issue of "Scribble Magazine." Scribble Jam is now known as the underground event that allows kids across the world to take an active role in the culture they love. Emcees, DJs, B-boys and Graffiti Artists come from all over to demonstrate their abilities in preserving hip-hop in its truest form. Scribble Jam is one of the only places left in America, that combines all four elements as they were meant to be. Over the years, Scribble Jam has become a proving ground for those who remain true to preserving the culture. What you (will soon) hold in your hands is a collection of highlights from Scribble Jam's Hightlight videos that up until now were only offered on VHS.
Scribble Jam in its 7th Year. This year kicked off with the Rhymesayers 10th Anniverary concert. Brother Ali, Eyedea and Abilities, MF Doom, Atmosphere and many more rock the spot. Saturdays highlights include first ever Beat Box competition, Freestyle Session Bboy Battle, dj battle and one of the years best MC battles. This is a 3 hour double-sided DVD which includes all Bboy Battles, Live Performaces, Dj Battle featuring Scratch Bastards and the MC battle with Rhymefest, MC Juice, Swan, and many more…
The largest Hip-Hop festival on either side of the Mississippi actually takes place in the heart of the Midwest. It's in Ohio of all places, and showcases not just one, but all the elements of Hip-Hop as they are meant to be. This DVD is filled with Scribble Jam 2004 Highlights that will keep even the oldest heads entertained. Scribble Jam has turned into a cultural melting pot of people who embody every element of Hip-Hop. Scribble Jam 2004 brought some of the best battles EVER! See the clash between two top Canadian DJs; Brace and Scratch Bastid battle it out in the finals. Also after 36 contestants, the 2004 pool of MC's came down to Mac Lethal (Scribble Jam MC 2002 Champ) and Illmaculate, a 17-year-old MC all the way from Portland who was competing for the first time. It was a battle between old and new, but in the end, youth prevailed and Illmaculate walked away with $2000 and the title as the youngest MC to win in Scribble Jam history. OVER 3 HOURS LONG!