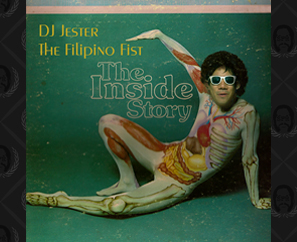 DJ Jester the Filipino Fist manned the turntables for the SFR Showcase at SXSW 2009, and now brings you The Inside Story, a 40-minute mix of under-and-overground hip hop, rock, and pop classics blended in his own signature style, available now for FREE DOWNLOAD!
Click here for your FREE DOWNLOAD courtesy of URB Magazine!

Also available for a LIMITED TIME ONLY: a SIGNED limited edition mix CD, packaged in a slimline case with a full color insert, plus a selection of DJ Jester promo items, including 1″ buttons, stickers, and the official DJ Jester wooden nickel!
Click here to order your CD package!

———-
Jester also authored a guest blog memorializing the great Grandmaster Roc Raida, who passed away recently. Read Jester's thoughts here.
———-
Jester explains the mix in his own words in this interview with Antipop.net:
DJ Jester just finished recording a brand new mix that will be available at Limelight in San Antonio this First Friday and we had some questions about it so here they are.
You just finished a new dj mix called "The Inside Story" What inside story are you referring to?
There's not really one story I'm referring to.
I'm exposing my feelings. Not really physical joy or pain but a peak into my psyche. My soul. My thoughts. It's like they say, when you write it down it helps you get over it. This is me writing it down.
What inspired you and your track selection for this particular mix?
Music, really, has been my best friend since as long as I can remember. One thing I realized when I was taking notes and putting this together is how much I used to love lyrics (especially of the east coast emcee variety) and how in the last couple of years I have been listening more for beats and melodies rather than lyrics. If anything, it brought me back there. Other inspirations include the films of Woody Allen, living alone in a city, and a few too many self-help books.
There are a lot of samples from movies used in the mix? Do you think they help tell the inside story?
Definitely. I probably watch at least one movie a day, if not two. I have a doc in my computer titled "filmquotes" that I constantly go back to if I hear something that particularly strikes me or if I think it speaks the truth. There were so many quotes I didn't use in this mix that I don't know if I'll ever use because they just sound too whiny or pathetic. As with putting songs together or setting up a good joke, you gotta know when to hold back and when to pull the trigger. When to say this. When to say that. There's also that question of "Do I really want the world to know I think like that?..Like, that much?" I also wanted to organize the songs in a way that it would build, tell a story and still hold true to the DJ Jester dialectic.
The opening sample describes what you are about to hear as a musical interpretation of past relationships. Why are relationships a reoccuring theme for your mixes?
I can go on for days about this. Growing up youngest of four, Filipino in Texas, yada yada yada. . .Let me just say. I think I really could write books on relationships and social dynamics. I'm just wired like that. It's something I think about every minute of the day. Like, is she smiling at me because she knows me or does she think I'm cute? Did I get a discount at Jiffy Lube because he thought I was gay? Are they really happy? Am I cursed?
If you could have a relationship with a specific genre of music which one would it be and why?
I would have a fun night out with jazz but probably wouldn't call that much because I'd think I was too intimidated and not as smart. I'd take rock n' roll to a baseball game and get lucky before the game was over. Country and I would road trip through the south like nobody's business. Hip-Hop, I love you but I hate you. Guess you could say, I kinda want all of that.
Turntable Lab reviews The Inside Story:
DJ Jester the Filipino Fist outta Texas is always having WAY too much fun on the ones and twos. No, seriously. This guy is out of control! Jester takes it there… to the limits and BEYOND. If you think his face on the Mr. Goodbody suit on the cover is crazy, wait till you hear what's inside the "Inside Story." I'm actually still recovering from the dense 40 minute musical bronco ride (don't think my mind could've handled any more debauchery) that's filled to the brim with unexpected turns and twists, mashes and blends galore, beats to make your head nod, get crunk, stupid, and scratch your head and say "WTF?". This is the kinda mix that'll turn out your next dinner party, BBQ, bar mitzvah, and could even lighten up a funeral.
Features tracks by everyone from Ying Yang Twins, Backstreet Boys, the Muppets, Jungle Brothers, Peter Gabriel, Al Green, Lord Finesse, Super Mario Bros, Lyrics Born, James Brown, and many, many more.