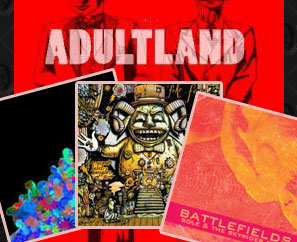 Onry Ozzborn (of Grayskul & Oldominion) and Zavala (responsible for beats on Sleep's Hesitation Wounds & Christopher albums) are Dark Time Sunshine, and have dropped a new album on Fake Four Records called "Vessel". The record features appearances by Aesop Rock, P.O.S., Solillaquists of Sound, Qwel, and Ceschi Ramos.

You can read more about the album and purchase the CD from SFRstore here:
http://www.strangefamousrecords.com/store/dark-time-sunshine-vessel-cd-p-384.html
SFRstore has also gotten its hands on a very small amount of limited edition Dark Time Sunshine 7-inch vinyl, featuring 2 songs not available on the Vessel album, "Adultland" and "Oh But Of Course", both with Onry on the rhymes and Zavala on the beat. Click here to get yours while they last!
Also, while supplies last, any Fake Four release purchased at SFRstore will come with a FREE Fake Four CD sampler, featuring songs from all the artists on the label roster. Tracklisting and a list of eligible products below:

#1 Common Grackle – The Great Depression (ft. Ceschi)
#2 David Ramos & Max Health – Interlude 1
#3 Sole and the Skyrider Band – Longshots
#4 Electric President – Elegant Disasters
#5 Dark Time Sunshine – Run
#6 Cars & Trains – Intimidated By Silence
#7 Ron Contour & Factor – Glad
#8 Consulate General – On The Run
#9 Ceschi – No New York (ft. Astronautalis)
#10 Derby L – Race Crane
#11 MiC K!NG & Chum – About Time
#12 David Ramos – Inhale
#13 Noah 23 – Bright Green Laces
#14 Factor ft. Myka 9 – Thats How I Feel About It
#15 Deadpan Darling – (We Dont Care If You) Dance Song
#16 Awol One & Factor – Sunset Sandwich
Purchase any of the following titles and receive a free FF CD Sampler:
Dark Time Sunshine – Vessels CD
Dark Time Sunshine – "Adultland" b/w "Oh But Of Course" 7″ Vinyl
Sole & The Skyrider Band – Plastique CD
Sole & The Skyrider Band – Battlefields EP Vinyl