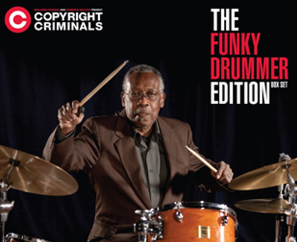 The Copyright Criminals documentary explores the impact that sampling and remixing has had on modern musicians, veteran performers, and anyone who has listened to contemporary pop hits in the past 20 years.
The film is a musical thrill ride, with an intricately layered soundtrack and visual montages that keep viewers moving in their seats. The Funky Drummer Edition includes the original documentary, plus featurettes spotlighting Public Enemy's Chuck D, James Brown Band drummer Clyde Stubblefield, and Cee-Lo Green along with the amazing video remix skills of Eclectic Method and other additional content. Copyright Criminals showcases many of hip-hop music s founding figures like Public Enemy, De La Soul, and Digital Underground along with emerging hip-hop artists from record labels Definitive Jux, Rhymesayers, Ninja Tune, and more. It also provides an in-depth look at artists who have been sampled, such as Clyde Stubblefield funk legend George Clinton. As artists find ever more inventive ways to insert old influences into new material, this documentary asks a critical question, on behalf of an entire creative community: Can you own a sound?
Copyright Criminals: The Funky Drummer Edition Box Set is the premier package for anyone interested in the history and art of sampling. In addition to the expanded double-disc DVD edition of Copyright Criminals, the box set boasts 45 Copyright Criminals All-Stars trading cards, the Copyright Criminals movie poster, stickers, and a 12-inch vinyl record of Clyde Stubblefield s Ultimate Breaks and Beats, pressed exclusively for the box set.
 Click here to cop the Copyright Criminals Box Set!
Box Set Includes:
Clyde Stubblefield s Ultimate Breaks and Beats 12-Inch Vinyl Record
Copyright Criminals All Stars Trading Cards
Movie Poster
Stickers
Double DVD Includes:
Copyright Criminals Documentary
The Art of Sampling With Cee-Lo Green (New Featurette)
The Funky Drummer in the Studio with Chuck D (New Featurette)
Eclectic Method Uncut Audio-Visual Remixes (15 Videos)
Fair Use Explained: Four Featurettes by the Center for Social Media
Extended Interviews with Chuck D, De La Soul, and Clyde Stubblefield
Music Player Featuring 15+ Songs from Copyright Criminals Soundtrack by El-P and RJD2
Clyde Stubblefield s Ultimate Breaks and Beats (Hi-Res WAV Files)
Copyright Criminals All Star Band Funky Drummer Remix Video
Copyright Criminals All Star Band Megamix Video
Interviewees: Public Enemy, De La Soul, George Clinton, Clyde Stubblefield, Eclectic Method, Mix Master Mike, Shock G, Pam the Funkstress, El-P, Mr. Len, Miho Hatori, DJ Spooky, Matt Black, Bobbito Garcia, Prefuse 73, Sage Francis, Prefuse 73, DJ Qbert, Eyedea & Abilities, Pete Rock, and Saul Williams.
Also available from SFRstore: the original "Copyright Criminals" DVD – only $24.99!