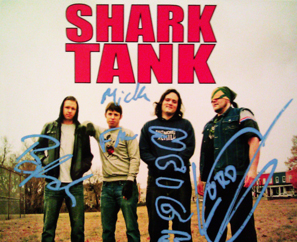 EXCLUSIVE CD AUTOGRAPHED BY ALL MEMBERS! Fresh off a triumphant New England debut at the SFR Basement Show #3, Lord Grunge of Grand Buffet and his cohorts in SHARK TANK give us their first full-length CD! Get this SFRstore exclusive autographed album now while we still have 'em.
Since Grand Buffet has been on hiatus, it's been quite a while since we've heard new material from Lord Grunge. Wait no more! Grunge has started a new group called Shark Tank with some of his homies from Baltimore (Mickey Free, Brendan Richmond and Height.) This material is catchy and fun but this is a noticeable departure from the more dance-oriented style of the Grand Buffet.
Click here to cop your SHARK TANK CD!
"Red Rain" is the first single from the album:
"Red Rain" by Shark Tank by Strange Famous Records
Tracklisting
1. Red Rain 02:19
2. Don't Shoot 02:39
3. Nighttime Men 01:30
4. Phone Call 00:49
5. Drink Drinks 03:13
6. No Sleep 01:27
7. Miserable 00:31
8. Von Dutch 02:10
9. Aces of Cake 02:02
10. Rap Everglades 03:01
11. Jimland 01:51
12. Enjoy 00:27
13. Oh No! 02:48
14. Buggin Out 02:24
15. Yeah 00:49
16. I Can't See It 04:20