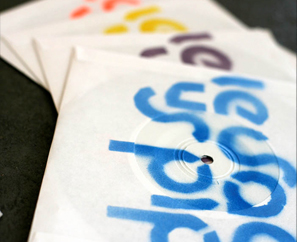 It's hard to believe, but September 2 is the one year anniversary of dan le sac Vs Scroobius Pip's SFR debut album, Angles! To celebrate, Strange Famous Records is offering a FREE limited edition 7″ vinyl white label single with every purchase of an "Angles" CD!
Click here to check out pics of the vinyl and cop yours!
This is an extremely limited edition 7″ vinyl piece, with the Angles track "First Time We Met Musik" b/w "Unspoken Word Poetry", from Scroobius Pip's long out-of-print solo debut!
Each piece has a spray-painted 'lesac vs pip' logo in an array of colors (even more than pictured here)!
Don't worry: if you've already picked up your copy of Angles on CD, you can still purchase the 7-inch separately here.
Each order will receive a randomly selected color logo.