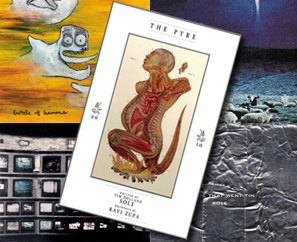 BACK IN STOCK! 2 SFRstore exclusive SOLE items!
Get 3 of indie rap pioneer Sole's seminal releases: Bottle of Humans, Selling Live Water, and Live From Rome, plus the rare bonus CD Songs That Went Tin (previously thought to be out-of-print) for one ridiculously low price: just $24.99! (less than $6.25 each disc)
Click here to cop your exclusive CD package. Quantities are limited!
"The Pyre" is a collaboration between tim holland & ravi zupa. It is a seventy-two page illustrated epic poem with an accompanying full length "audiobook/album." Holland & Zupa evoke the confusion, violence, hope, and voice of twelve thousand years spent digging in the mud.
The album is a cross between an audiobook, a herzog soundtrack, & an instrumental album. Featuring 20-plus songs recorded using analog 8-track & Computer. Continuing in the vein of the critically acclaimed mansbestfriend series, the would-be instrumental sections merge with the narrative and draw the listener into the beautiful and chaotic world that is "the pyre."
Click here for more info about the book and to get your copy!
Also available from SFRstore: the latest Sole & Skyrider Band LP "Hello Cruel World" on CD & VINYL!