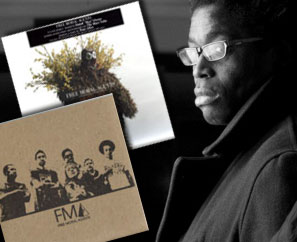 An SFRstore exclusive! New releases from Free Moral Agents, the Ikey Owens (Mars Volta)-led band that opened for, and backed up, Sage Francis on the Li(f)e On The Road US Tour. You won't find these anywhere else, so grab 'em here before they're gone. Ikey & company were good enough to give us a very limited number to sell on the site.
This is a live, (formerly) tour-only CD packaged in individually hand-stamped recycled sleeves. Here's a description of the record from Ikey himself:
"this recording was in 2004 at the Prospector in Long Beach. i felt like the band was finally starting to come together. after 2 years of searching for a sound we were finally able to start to define who we are."
More details and a tracklisting can be found on the product page here.
Limited to 500 copies, the "North Is Red" 10″ single features the title track on side A, and a remix by Tony Allen (Fela Kuti, The Good The Bad & The Queen) on side B. Check out the product page for a review and more details.
If you missed the tour and aren't familiar with the Free Moral Agents yet, you can check out their MySpace page here or peep the live video for "North Is Red" here.