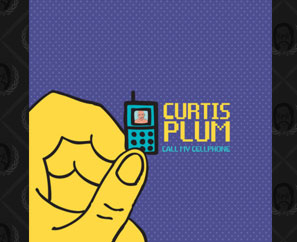 SFR's resident mystery man, Curtis Plum, emerges with his long-awaited debut album Call My Cellphone!
Click here to order your exclusive SFRstore package, including Curtis' CD, a 4″ SFR Plum Logo gold foil sticker, and a brand new 11×17 poster featuring the entire Strange Famous Records roster!
Click here for your FREE DOWNLOAD of Curtis Plum's "Indie Rocker."
Mock-up of SFR Plum Logo Sticker:
The most common response to the announcement of his 2009 signing to SFR was, "Who the fuck is Curtis Plum?" Let's start with the basics: Curtis Plum is a character who makes Casio keyboard beats and raps in a Katharine Hepburn accent. But wait… there's more!
Aside from the assistance from label mate Reanimator on a couple of tracks, all of Plum's beats are completely self-produced. Every song on Call My Cellphone has a theme of its own, and these themes are turned upside-down with a dose of his signature style of twisted humor. Rather than the tread-worn punchline style of most hip hop 'humorists', Plum opens up his mind and empties it all over the borders of hip-hop topics, blurring the line between keeping it real and creating the surreal. It takes a special kind of emcee to tick off a list of 20 ways in which he can be "Up in Ya Face."
Despite the lo-fi nature of his recordings, the music is oddly hypnotic. The melodies are as catchy as his lines are quotable, and when all elements come together the songs become maddeningly infectious. There is an old school sensibility to the sparseness in Plum's production style, which gives the vocals adequate room to breathe. This is essential to Plum's effectiveness, as he has a penchant for great storytelling. He goes from being a "Bike Cop" poppin' wheelies of justice, to being Vin Diesel's best friend… consoling him at yet another winless night at the Oscars.
Here are the facts: Curtis Plum is a bizarre cat who has delivered an incredibly fun and enjoyable album. This will most likely be the only album we get from the man, in this incarnation at least, so eat up every minute of it. Plum will not be touring any time soon due to how his last tour got cut short thanks to a horrible run-in with the Pittsburgh police. With that in mind, be sure to bump this album in your rides with cellphones held high. Pop a wheelie of justice. Or don't. He's cool either way.
Tracklist:
01 Bike Cop
02 Up In Ya Face
03 Indie Rocker
04 Xbox Trife Life
05 Call My Cellphone
06 Vin Diesel
07 Get On The Dancefloor
08 Jack In The Pine Box
09 Lil Wayne Tried To Rape Me
10 Bike Cop Reanimated