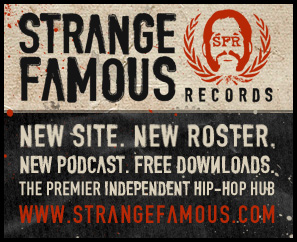 SFR is proud to announce the upcoming projects of our newly signed artists!
Sleep (of oldominion), B. Dolan & Alias, 2Mex, Cecil Otter, Jared Paul, Buddy Peace and Curtis Plum. Check out the artist pages in order to get the full run down of what we expect to see from each of them in 2009. You can also sample their music and videos on each of their pages.
Looking for free MP3's? There's a free download of a brand new 6-minute posse cut featuring contributions by Sage Francis, B. Dolan, Sleep, Buddy Peace, Aupheus, Jared Paul and Curtis Plum. Yeah, that's right…Curtis Plum. The song is called "Sea Legs" and it's the downloadable Clip of the Week on the homepage. Other than that, there is a 10 minute EP by Buddy Peace called "Holy Chrome" which you can get by going to the MP3 Downloads section of our site.
A brand new feature we are now offering is the "Strange Famous Podcast," which is currently 5 hours worth of hip-hop mixes. Originally heard on Sage Francis' college radio show "The True School Session" circa 1997-1999, we've decided to dig up the time capsule and share with all. This is a lot of underground hip-hop so don't take it in all at once. Keep your browser open and let it play until you can't take it anymore. We edited out most of the yapping for your listening pleasure, but we kept in the good stuff.
Lastly, we know there are 5 billion acts at SXSW every year, but we put together quite the line-up for our SFR Showcase on March 21 at the SCOOT INN. Sage Francis, Sleep, B. Dolan, Buck 65, DanVsPip, 2Mex (w/ Look Daggers), Prolyphic, Cecil Otter, Jared Paul and DJ Jester. Check the "tour dates" link on the left side of the page for details and info on more upcoming shows.
SFR is on the grind in 2009. Many thanks to Irena and Danny for putting this new website together. And big ups to Storm for holding the fort down when it was on the verge of falling to pieces. To everyone else who continues to support us, THANK YOU!!!