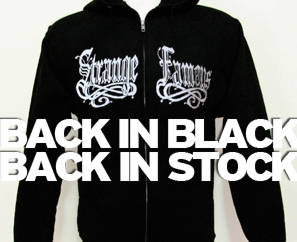 We just restocked a bunch of our most popular items, and even brought back the SFR Zip Hoodie in the color you demanded: BLACK!
Only a limited number were printed up, and we're going to debut some new styles in 2012, so this could be your last chance to grab one. The Holiday Sale only lasts for 2 more weeks, don't miss out!
Back-in-stock styles are listed below:
Sage Francis "LI(F)E Album Cover / Best Of Times" Mens' T-Shirt

B. Dolan Brown "Fallen House" Mens' T-Shirt

Click here to check out all of our special Holiday Sale deals!