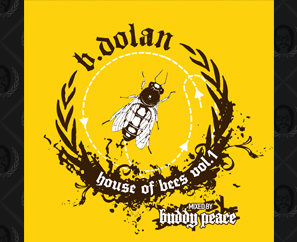 "House of Bees Vol. 1" is the latest from B. Dolan of Strange Famous Records; a 50 minute compilation of unreleased songs, collaborations and remixes assembled by label-mate and UK producer Buddy Peace.  This mix will be offered to the public both as a free download and as a limited run of signed, purchasable hard copies, available EXCLUSIVELY this August 11 from Strange Famous online store (www.strangefamous.com).
Click here to pre-order the limited edition SIGNED CD!
Dolan's writing and delivery here is by turns venomous and vulnerable, playful and possessed, and Buddy Peace has got the range and depth of production to match his lyricist's every whim.  A number of producers and emcees show up for cameos, including Jackson of Grand Buffet, Curtis Plum, Prolyphic, Alias, Aupheus, and Strange Famous label boss Sage Francis, who lends verses to a number of these songs.
B. Dolan is currently touring the U.S. with the Rock the Bells tour, and is set to release Fallen House, Sunken City, an album produced entirely by legendary beatsmith Alias, on Strange Famous Records this winter.  Buddy Peace will be releasing a new LP, Late Model Sedan, digitally via Strange Famous Records on August 18.
Click here for your FREE DOWNLOAD of "House of Bees Vol. 1" courtesy of URB Magazine!
Tracklisting:
01 Evel Intro
02 House Of Bees feat. Sage Francis
03 Paid Dues feat. Sage Francis
04 Lucifer
05 Heart Failure
06 Sea Legs feat. Sage Francis
07 Open Letter to J.T.
08 Joan of Arcadia
09 One Breath Left
10 Dear Lefty
11 Survived Another Winter feat. Prolyphic, Alias, Sage Francis
12 Vin Diesel feat. Curtis Plum
13 One Breath Left (Jackson of Grand Buffet Remix)