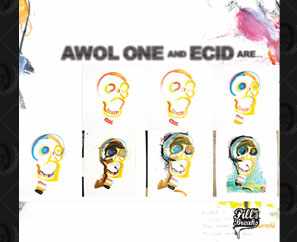 SFRStore has an exclusive package available now for the new album from West Coast underground vet Awol One and Fill-In-The-Breaks producer Ecid, including a free download of the first single, "Bullet Teeth"!

Each package will come with an exclusive poster, sticker, and button (while supplies last)!

Click here for your FREE DOWNLOAD!
Click here to pre-order your copy of the album!
Who are Awol One and Ecid? Are they shape-shifting heroes from hiphop's distant past sent back to the future? Are they animal poets trapped in a shell of b-boy bodies? Are they MTV reality show robots in training? Are they skeleton monsters? Are they made of flesh or circuits?
No one is exactly sure what they are, they just are…
While touring the Midwest years ago – Los Angeles MC/Artist Tony aka Awol One and Minneapolis MC/Producer Jason aka Ecid began building the foundation for a classic collaboration between two of indie-hiphop's most unpredictable talents and original voices.
Two years and many L.A. / Minneapolis flights later they have constructed a cohesive album built on label Fill In The Breaks trademark production and balanced by Awol and Ecid's knack for witty sarcasm and melodic hooks. Like too many forced and ill planned collaborations before them, this new duo had no intentions of just running through the motions – they wanted to make an unapologetic, raw and focused record.
From the first horn stab on the opening track "Root For The Villain", to the epic posse-cut "Calm Down" and the sure-fire anthem "Clever Marketing", one thing is for sure –
Awol One and Ecid are…
Tracklisting:
01 – Root For The Villain
02 – Dangertainment
03 – Skeleton & Fresh
04 – Bullet Teeth
05 – Calm Down (feat. Optix16, Jordan Miché, & Cadaver)
06 – Moving On (feat. Capaciti)
07 – Selling Out For The Sport
08 – Staring Death In The Bulls Eye (feat. Gel Roc)
09 – Thanks A Million (feat. Impulse of Sector7G)
10 – Clever Marketing
11 – Outro
***PRE ORDER SHIPPING INFORMATION***
Please read carefully! ALL pre orders will be held until the ship date. ALL other items in your shopping cart will also be held until the ship date. If you have items that you may want to receive sooner we suggest placing a separate order for those items.

Orders will ship on or before the release date of Tuesday, January 12, 2010