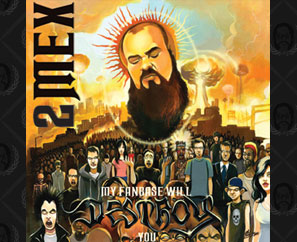 Legendary Los Angeles underground hip hop veteran 2MEX has broken his silence, returning from hiatus with the ultimate 2Mex album: My Fanbase Will Destroy You.

Click here for the SFRstore EXCLUSIVE  My Fanbase Will Destroy You!
Orders placed at SFRstore are shipping now. The album will be in stores and at digital sites everywhere on October 26.
The record features 2Mex in the finest hour of his storied 15-year career. Over fifteen tracks, the gifted emcee showcases his charismatic, versatile flow, delivering razor-sharp observations and a signature lyrical wit over a varied selection ground-shaking and groundbreaking sounds from underground hip hop's finest beatmakers. Appearances and production are contributed by Murs (Felt, Living Legends), Prince Po (Organized Konfusion), Busdriver, Ikey Owens (The Mars Volta), Ceschi, and many more. The album includes the lead single "Dead Hand Control", produced by Owens and Deeskee (Shapeshifters).
Click here for your FREE DOWNLOAD of the first single "Dead Hand Control" featuring Maney Wilson, produced by Ikey Owens & Deeskee!
2Mex is infamous for keeping his fanbase satiated with an almost constant flood of releases, both as a solo artist and with his acclaimed group projects (including the seminal indie rap collective Visonaries and Look Daggers, his collaboration with Ikey Owens of The Mars Volta). My Fanbase Will Destroy You, however, took two years to create, and that extended period yielded a record that represents his multi-faceted skills in the most comprehensive and precise manner yet.
A break of this length was an astounding accomplishment for a man who is possibly the most prolific underground rapper ever, with over 35 CD releases in his catalog and too many guest appearances to count. The newly-discovered sense of focus for one project came about in part due to a discussion with Strange Famous Records label boss Sage Francis (a prolific underground legend in his own right), who signed 2Mex in 2008:
"One caveat of the deal was established from the start: this has to be the quintessential 2Mex album," says Francis. "The best of the best. It will be the next level record. The ceiling breaker. It will be the only 2Mex album that is released in the year that it comes out."
And so began the journey that led to classic-quality tracks such as the first single "Dead Hand Control," the anthemic return-to-form pledge of allegiance "Back", and the introspective "I Just Didn't Know" (featuring Returners bandmate Stacey Dee). Organized Konfusion's Prince Po shows up on "What You Know About," a dedication to the under-the-radar greats that influenced a generation of hip hop. The strain of maintaining fulfilling, lasting relationships in the 21st century comes under scrutiny as 2Mex trades verses with Living Legends homie Murs on "Rollercoaster." The subsonic bass crunch of "Press Your Luck" brings the new sound of underground Los Angeles to the indie rap masses.
As for the title of the record, 2Mex explains that it is exactly what it seems, a direct dedication to his supporters for the strength and love they have shown him throughout his career: "There's a small contingency of hardcore fans that have kept me alive, kept my rent paid," he says. "This record was made for them, for those who have believed, the people that have rolled with me forever, the ones with '2Mex' tattooed on their body. I truly believe in them as much as they believe in me, and this album is for them."
The complete track listing for 2Mex's My Fanbase Will Destroy You:
01 My Intro Won't Destroy You
(produced by Busdriver)
02 Dead Hand Control feat. Maney Wilson
(produced by Ikey Owens & Deeskee)
03 Back
(produced by Deeskee)
04 What You Know About feat. Prince Po
(produced by Life Rexall)
05 Dead Deer Diary
(produced by Ceschi Ramos)
06 Rollercoaster feat. Murs & Ariano
(produced by LDONTHECUT)
07 The Fun In Funeral feat. Deeskee
(produced by Deeskee)
08 Bluetooth Cyborg
(produced by Busdriver)
09 Career Suicide For Dummies feat. Busdriver
(produced by Busdriver)
10 Surveillance
(produced by Ceschi Ramos)
11 Press Your Luck feat. Nobody
(produced by DJ Nobody)
12 Jolly Rancher feat. Verble & Maleko
(produced by Busdriver)
13 There's A Way
(produced by Single Helix)
14 AFC West feat. Busdriver, Riddlore?, Ngafish, Shaheed, Akim, Ellay, Khule, Wreccless
(produced by Deeskee)
15 I Just Didn't Know feat. Stacey Dee
(produced by Deeskee)
2MEX & FREE MORAL AGENTS ON TOUR THIS FALL!
A road warrior with over a decade of world tours under his belt, 2Mex will take My Fanbase Will Destroy You on the road this October on a trek that will find him reuniting with producer Ikey Owens and his band Free Moral Agents. Click here for tour dates and information.
***PRE ORDER SHIPPING INFORMATION***
Please read carefully! ALL pre orders will be held until the ship date. ALL other items in your shopping cart will also be held until the ship date. If you have items that you may want to receive sooner we suggest placing a separate order for those items.
Orders will ship on or before the release date of Tuesday, October 12, 2010.