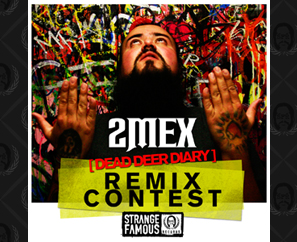 "Dead Deer Diary" is patchwork of road-warrior tour tales set to a backdrop created by producer (and 2Mex's tour partner) Ceschi. The original song appears on 2Mex's long-awaited Strange Famous Records debut "My Fanbase Will Destroy You."
The time has come for us to pick the winner of 2Mex's "Dead Deer Diary" remix contest which began over a month ago. It was incredibly difficult picking a winner as there wasn't one particular remix that totally blew all other remixes out of the water. That's not a knock on the contestants at all; it's a testament to the collective talent that is now involving themselves in these SFR remix contests.
Oh yeah, so you wanna know who the winner is…
The winner of the "Dead Deer Diary" remix contest is a production duo from Kansas City, Missouri named BARBARIC MERITS.
High honorable mentions go to Dynamo414, Flawed Logic, LEIF(kolt) and Time Crisis who unfortunately have to share the runner-up position equally. Lastly, the "Unique Twist" Award has to go to Ocward Storms.
Obviously the opinions and preferences of 2Mex, Ceschi and Sage weighed heavily into the final decision, but the public votes, the number of song plays accumulated, and the amount of discussion generated by each remix via our Facebook page & messageboard were also put into consideration. As we mentioned previously, everyone who made it into the final round deserves recognition for the great work that they did and we are appreciative of the talent, time, and energy you all put into these remixes.
Massive congrats to Barbaric Merits. They came out of nowhere and surprised us with a well-crafted remix that breathed new life into 2Mex's "Dead Deer Diary" song which is what earned them the crown this time around. Since Barbaric Merits didn't receive many votes in our public polling we expect some complaints. Please, feel free to state your case but keep the whining to a minimum and give props where they're due. Also, next time, make sure your remix or your friend's remix is undeniably the best. That'll make it a lot easier for us to judge.
The next SFR remix will be held very soon.  Please add us on Facebook and/or Twitter if you haven't already so you don't miss any announcements!