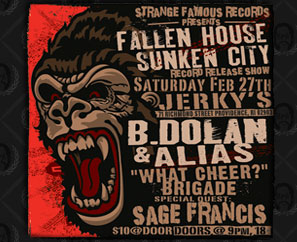 Thanks to all who came out to support the "Fallen House" record release show!
Check out pics, video, and Sage's review of the show here: http://tinyurl.com/BestShowEva
Feb 27th at Jerky's in Providence, RI (71 Richmond St)
The FALLEN HOUSE, SUNKEN CITY Record Release Show

B. Dolan
Alias
"What Cheer?" Brigade
special guest performance by: Sage Francis
More acts TBA
$10 at the door, 18+, Doors at 9pm
It's a Saturday night, folks. We're going to SMASH THE FUCKING PLACE TO PIECES. Do not miss this.
To purchase tickets in advance, click:
http://www.venuevents.net/event/833
For more info and all album details please visit:
www.FallenHouse.com
If you're on Facebook then share this event page with friends: http://www.facebook.com/photo.php?pid=11101822&id=734000485#/event.php?eid=281820714775&ref=mf