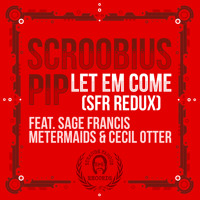 Scroobius Pip "DISTRACTION PIECES" is available now on CD, vinyl & MP3 at: tinyurl.com/DistractionPieces
Scroobius Pip's "Let Em Come" takes a more somber tone in this SFR REDUX where he is joined on the mic by 3 Strange Famous affiliates: Sage Francis, Metermaids & Cecil Otter. Fresh off the heels of his Wugazi project, Cecil Otter also produced the beat.
The artwork for this digital single was done by Carl Sutton.
Save room at the dinner table.