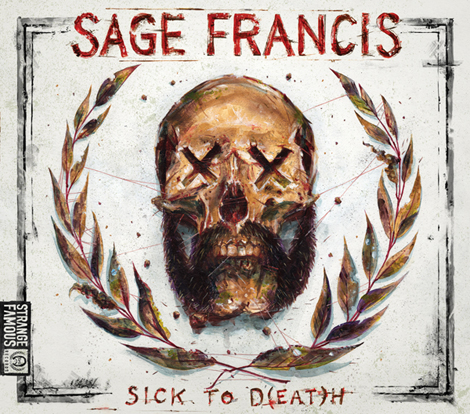 SICK TO D(EAT)H – the newest edition to SAGE FRANCIS' "Sick of" mixtape series drops on Dec 12, 2013 exclusively at StrangeFamousRecords.com.
Pre-sale package deals available now: tinyurl.com/SickToDeathSFR
The Epic Beard Men are back to help usher in this 75 minute compilation of rare recordings, remixes, demos and brand new songs. Sick to D(eat)h is available on MP3, CD and cassette. Yes…we're returning to the original analog format which kicked off this mixtape series back in 1999. It includes a download code this time through. It features contributions by: Atmosphere, B. Dolan, Buck 65, Buddy Peace, Cecil Otter, DJ EQ, Kurtis SP, Lord Grunge, No Bird Sing, Prolyphic, Reanimator, Scroobius Pip and many more.
The full track list is below and breakdown of each track, along with some additional updates from Mr. Francis, available here: www.strangefamousrecords.com/blogs/sage…ickToDeath
In other news, we're proud to announce that Sage Francis is currently recording his NEW ALBUM (title withheld for now) which drops in June of 2014, officially ending a 4 year hiatus. This will be followed by a world tour. More info on that soon at SFR.
For now, enjoy the free download of "You Can't Win" (EPIC BEARD MEN!)