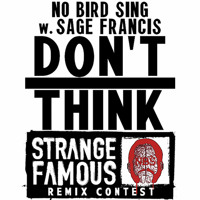 What kind of name is Joeypresents and who the hell is this character anyway?
Well…whoever he is and wherever he's from, Mr. Joeypresents is officially the WINNER of the "Don't Think" (by No Bird Sing feat. Sage Francis) remix contest.
CONGRATS, Sir Joeypresents!
Read about the selection process and check out all of the remixes (including runners-up Dilly Dilly and Moxe) at the SFR Soundcloud here.