Strange Featured Video
"BLUE" is off of the SICK TO D(EAT)H mixtape, available at: http://tinyurl.com/SickToDeathSFR
"BLUE" was written and performed by Sage Francis. Music produced by Reanimator. Scratches by Buddy Peace.
Among many things, this song and video touch upon the subject of PTSD. There are many organizations and resources that are available to vets who are struggling with civilian life, but not everyone feels comfortable reaching out for help. Some people might not even know that they need help until it's too late. Just so that the information is out there, for anyone who may need it, the Veterans Crisis Line can be reached at 1-800-273-TALK (8255) or via text to 838255. The Crisis Line website: http://veteranscrisisline.net/
Benjamin's Deep Thoughts
Strange Featured Release
DAN LE SAC VS SCROOBIUS PIP - Repent Replenish Repeat
After a 3-year hiatus, dan le sac Vs Scroobius Pip return with their third group effort, "Repent Replenish Repeat"!
The Strange Famous Records release of the album features an EXCLUSIVE bonus track, available only on CD & Digital versions in North America! Click here for CD & MP3 versions of the album.
Clip of the Week
Sage Francis – "Vonnegut Busy"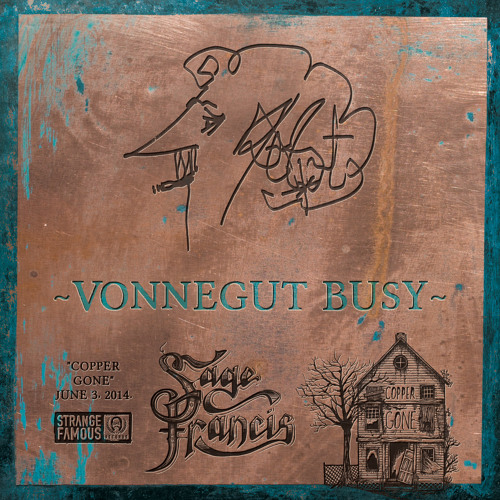 COPPER GONE album drops worldwide on June 3rd. PRESALE PACKAGE DEALS + tour dates available here.
(CD, vinyl, cassette, digital, shirts, hoodies)
——————————————————————-
"VONNEGUT BUSY" acts as a stylistic sample dish for what one can expect from Sage Francis on Copper Gone, transitioning seamlessly from socio-economic issues to personal politics, all while being punctuated by the project's overall mission statement: "When it seems like you're going through hell…keep going." The reference to Kurt Vonnegut in the title is accompanied by a quote from the satirical writer in one of the song's 3 sub-choruses: "Of all the words of mice and men, the saddest are, 'it might have been.'"
As fans and media may remember, Francis declared a sudden retirement from touring at the end of his "Li(f)e on the Road" world excursion in 2010. Many people misinterpreted this as a resignation from music altogether as his three album deal with Epitaph Records came to its conclusion. "It sort of offends my sensibilities to hear that some people thought I gave up music," Francis remarks. "I've been writing songs since I was 8 years old. Performing on stage since 12. Winning over crowds and losing partners in the process. As far as creative energy goes, my entire adult life and the bulk of my childhood has been dedicated to this craft. I don't even think I could stop that train if I wanted to."
In reality, Francis removed himself from the non-stop grind of the tour circuit in hopes of developing a healthier domestic situation. He did not achieve this goal, as numerous songs on Copper Gone clearly illustrate (some more overtly than others.) Over the course of the next few years, in the wake of some significant personal losses, Francis succumbed to his more hermit-like tendencies. He remained tucked away in the woods on the outskirts of Rhode Island, running Strange Famous Records remotely, all while continuing to write/record music in the isolation of his studio.
"No matter how much time I spend by myself, I'm constantly aware of how I need to keep this ship afloat. If not for me, then for the others who have jumped on board with me. That's not the main motivation for what I do, but it's probably good to feel pressured into staying active outside of my bubble. I'm stressed, overworked, and exhausted regardless of my situation, so I might as well step into the fire rather than just watch the world burn around me. At this point, that sounds a lot better to me than spending the rest of my life as a recluse, wondering what might've been."
The music is produced by Strange Famous label-mate, PROLYPHIC (horns by Joshua Trinidad.)